by Kevin Wing
Editor, Off Camera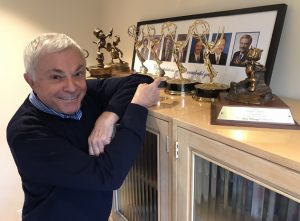 I have wanted to write about Don Sanchez for a long time. I'm not kidding. A very long time.
I am very lucky to call him a good friend as well as a longtime colleague. I first met Don when we worked together at KGO-TV ABC7 in San Francisco. So, my friend has been retired from Bay Area television now for nearly six years. But, in classic Don Sanchez style, the man has an abundant amount of energy. He is quite the traveling man. His Facebook posts reveal that he's quite the world traveler, actually. So, I kid you not when I say he is difficult to pin down for an interview. He is either visiting his kids in Florida. Or traveling with friends to destination spots all around the globe. Or, he's out and about in his beloved Marin County, driving around town in his awesome-looking Porsche. Yes, the man is, indeed, enjoying life after television.
Of course, a Gold & Silver Circles Profile on my friend, the legendary five-time Emmy® Award-honored television journalist who spent 40 years at KGO-TV, has been way overdue. It was time. The ever-modest Sanchez wasn't so sure about it, but I talked him into it. I'm so glad he said yes. I know you know all about him, but I'd love to tell you my friend's story, from my perspective.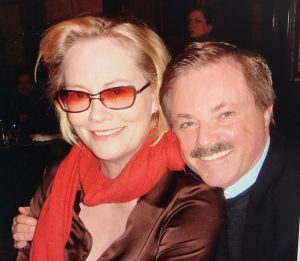 First, you know that Sanchez has done it all. In his 40 years at KGO-TV – from 1972 until his retirement in 2012 – he served as a news anchor, sports anchor, morning anchor, host, news reporter, sports reporter, feature reporter and entertainment reporter. But, his accomplishments are certainly worth mentioning, without a doubt.
The only thing missing from Sanchez these days that you would realize immediately if you saw him in person, is his trademark mustache, the one that he wore for decades. Decades. In the name of charity, he shaved that off several years ago. And sure, his hair is gray these days, but look, he still has it all. For a man who once worked in television for 50 years, let's just say that time has been good to him.
Sanchez, who was inducted into the Silver Circle of the San Francisco/Northern California Chapter of The National Academy of Television Arts & Sciences in 2000, in recognition at the time of his more than 25 years of contributions to the Bay Area and Northern California television industry.
He began life in Stockton, where he was born. He wasn't there long; his parents relocated the family to Santa Maria when he was four months old. "Santa Maria was like a small-town America," Sanchez says.
And, it was in Santa Maria where Sanchez's parents would get the first glimpse that, perhaps one day, Sanchez would become a broadcaster. "At four years old, I was walking around the house, using a spoon as a microphone," Sanchez recalls. "Radio really influenced me at a very early age."
There was no doubt that broadcasting would eventually become Sanchez's destiny.
Sanchez graduated from Santa Maria High School, and then it was off to the University of Southern California for the broadcasting wunderkind from Santa Maria. "By my senior year at USC, I was the program director at KUSC, the campus radio station," Sanchez explains these days, KUSC has become the classical music giant in all of Los Angeles. But, back in the 60s, it was a non-commercial radio station. I ran the radio station for a year, and we had a good-sized audience. It was a great experience for me."
After some time in Los Angeles, Sanchez "needed a break" from life in the big city, so he returned to Santa Maria. He became the morning disc jockey at a radio station in town, and was known as "The Morning Mayor".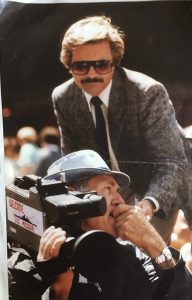 He became a hit on the airwaves in his hometown, and Sanchez was on his way. Using a spoon as a microphone prop when he was four years old began to pay off in big ways.
Then, Sanchez's father set him up with an interview with the general manager at KSBY, a television station in San Luis Obispo, which serves today as the NBC station for the Santa Barbara-San Luis Obispo-Santa Maria television market. And, the rest is history.
Sanchez was hired by Ed Zuchelli (the father of John Zuchelli, who has served as an assignment editor and news director in his own right at various California stations and who is now with KNTV NBC Bay Area). Soon, Sanchez would be anchoring the station's 6 and 11 p.m. newscasts. The year was 1963. And, Santa Maria's pride and joy would remain in the hometown market for nine years.
Sanchez certainly carved out a niche for himself while at KSBY, but after nearly a decade there, he began to ponder life in a larger television market. He had always loved the Bay Area, and so, he set his sights on San Francisco. "I'd been talking off and on with Pat Palillo, who was the news director at KGO-TV in the early 1970s," Sanchez says. "Palillo was the news director who made the station a dominant force in the Bay Area in 1969 with the hiring of (Fred) Van Amburg and Jerry Jensen to co-anchor the station's News Scene. "I got a call one day from Pat, who asked me if I would come up to the station sometime to meet with him," Sanchez says.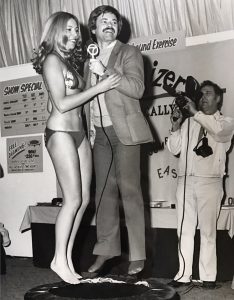 He certainly made an impression on Palillo. Sanchez would say goodbye to San Luis Obispo to join KGO-TV in 1972. "The day was September 25th, 1972," Sanchez says.
He began as a news reporter. Eventually, the station would put him on the anchor desk to handle the sports report on weekends. "At one point, we didn't have a sports anchor," he explains. "So, for 56 straight days, I anchored the sports." That's right. No days off. 56 straight days.
But, if you know Sanchez well, you know that he was always willing and able to try anything the station wanted him to do. As he puts it now, he would've been bored had he done the same job for 40 years. "I'm glad I had the chance to take on so many different roles at the station," he says. "I wouldn't have had it any other way."
And, with that kind of positive outlook (and, when have we ever known Sanchez to not be optimistic and positive about anything), that is exactly the next four decades would play out for him at the station.
Sanchez would eventually be teamed with Cheryl Jennings to co-anchor the station's 5 p.m. newscast, in the mid-1980s. And then, in 1987, when the station revamped its late-morning offering of AM San Francisco to become Good Morning Bay Area, it teamed Sanchez with co-host Susan Sikora. The show lasted another two years in its 9 a.m. weekday time slot. The program gave Sanchez an opportunity to meet a wide range of Hollywood celebrities who would travel to San Francisco to be on the show. "Actors, actresses, singers, we had them all," he says.
The veteran Bay Area television personality says his "proudest time" was in the minutes and hours following the Loma Prieta earthquake on Oct. 17, 1989. "Our work was extraordinary," Sanchez says, of the station's earthquake coverage that evening. "We were bringing up live shots as fast as we could from all of the areas around the Bay Area that had been hit hard by the earthquake. The Bay Bridge collapse. The Cypress Structure collapse in Oakland. The Marina District. Santa Cruz. You name it, we were on it.
"We broadcast such unbelievable pictures from all of the devastated areas." KGO-TV would eventually be honored with the prestigious George Foster Peabody Award for overall excellence for its coverage of the quake. "And the night Ted Koppel tossed to me live on the air," Sanchez says, "I'll never forget that moment."
Through the 1990s, Sanchez would also anchor all of the station's newscasts at one time or another – mornings, midday, late afternoon, evening. He was always the station's go-to guy whenever it needed to keep things moving. Then, the station decided Sanchez would be the best one on staff to be its new entertainment reporter.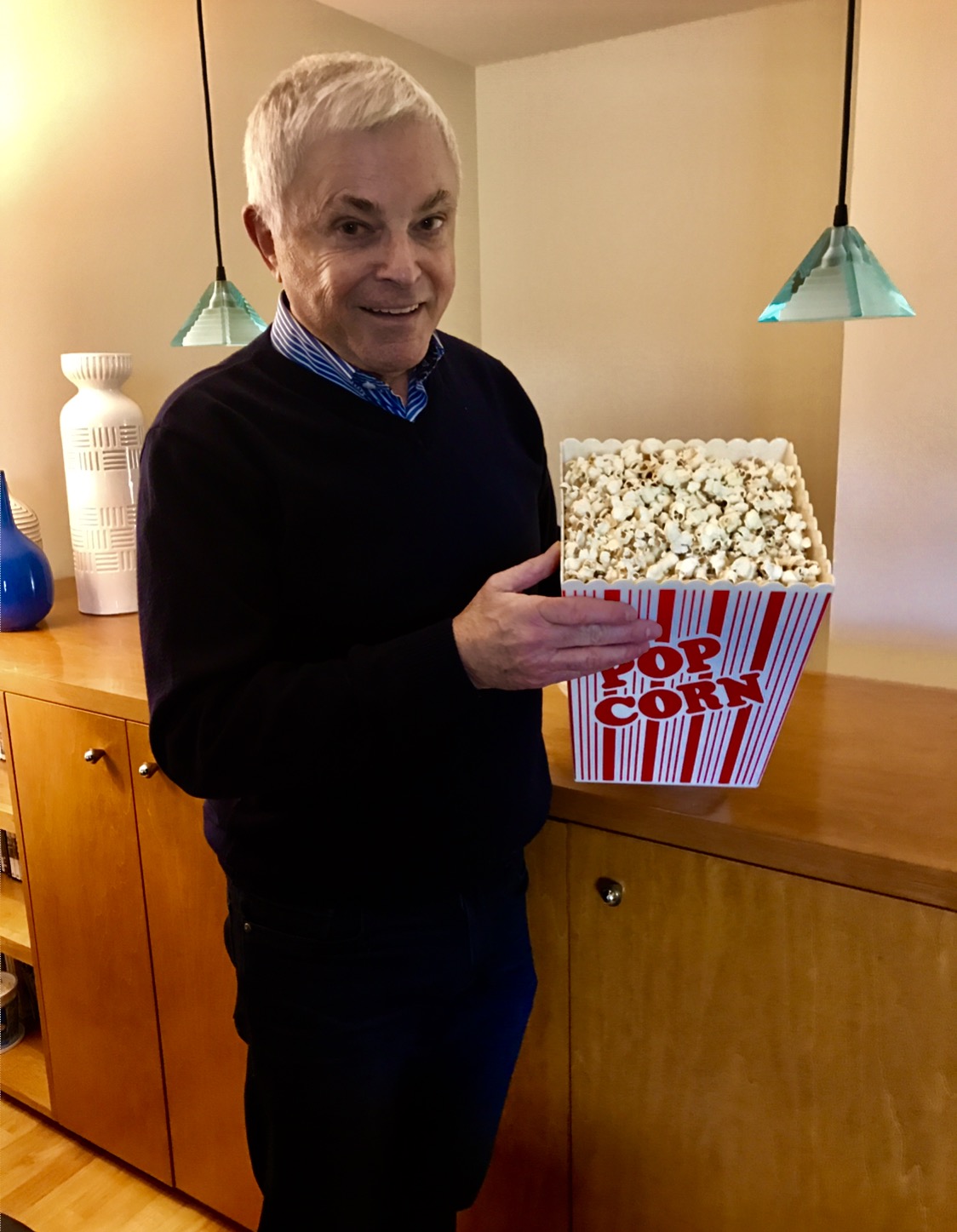 It was perfect for Sanchez. It fit his outgoing, fun and lively personality and tapped into his previous experience as co-host of Good Morning Bay Area. "Movie reviews, screenings, Hollywood interviews, and more. I did it all," he says. And he did it with flair, incorporating a plastic popcorn bucket, filled with popcorn, to illustrate his liking or his love for a new movie he reviewed.
Sanchez retired in 2012 to great fanfare. After all, it is not every day that someone remains at one television station for four decades. The station put together, and aired, a highlight reel featuring Sanchez and practically everything he had done for the station since his very first day back on Sept. 25, 1972.
Though it's been nearly six years since he retired from television, Sanchez is still very much involved in the television industry. He serves on the board of AFTRA/SAG (American Federation of Television and Radio Artists/Screen Actors Guild), and he is a much-loved member of the Board of Governors of our Chapter, joining in 2014 as a governor. Since 2016, he has been serving as the Board's regional vice president for San Francisco. And, he was the only choice of the Board of Governors to appoint him as the chairperson of the Chapter's Cinema Club. How appropriate, right?
Sanchez has brought smiles to everyone he knows. He has that aura about him. It's hard to beat his engaging personality, wit, laughter, and smile.
On life, Sanchez has this to say. "I love to laugh," he says. "A good laugh and a smile can go miles." What a wonderful reminder for all of us. "I've never been the hero in my lifetime. I've always been the best friend," Sanchez says.
I say that he is both the hero and the best friend.