By Kevin Wing
Editor, Off Camera
When Jan Moellering first set foot through the front doors of San Jose's KNTV Channel 11, the year was 1959, back when the four-year-old station was an independent and located at the corner of Park Avenue and Montgomery Street.
Moellering was a junior at what was then known as San Jose State College, studying radio and television production, when KNTV
called the radio-TV department to ask if there may be any students who would be interested in volunteering as production assistants. Throughout its broadcast day at the time, the station would flash a celebrity's image on the TV screen and Moellering and other student volunteers would call people listed in the phone book to ask if they happened to see the star's photograph during the course of the broadcast day.
"I jumped at the chance," Moellering said.
"If the viewer could name the celebrity, they would win a prize," she added. "It was the 'watch and win' strategy of the station at the time."
That was Moellering's introduction to television. Little did she know back in 1959 when she walked into KNTV that she would never leave, remaining there, to this day, for six decades. To describe her long tenure there as an incredible run is an understatement.
On Feb. 16, Moellering celebrates her 60th anniversary at KNTV, now today's NBC Bay Area. She was inducted into the Silver Circle of the San Francisco/Northern California Chapter of The National Academy of Television Arts & Sciences in 1994 to honor her more than 25 years in contributions to the Bay Area television industry. In 2009, the Chapter honored her with Gold Circle status to commemorate her 50th year in Bay Area television.
Born in San Jose, Moellering is a true native of what was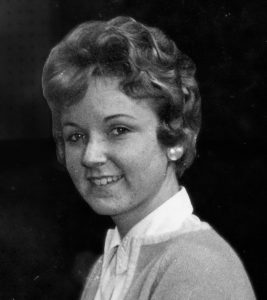 once affectionately known as "the Valley of Heart's Delight", raised in a farming community that became today's 10th largest city in the country. Growing up with her brother, Tom, Moellering grew up in San Jose's Rose Garden neighborhood and graduated from Lincoln High School before heading to San Jose State.
After getting the chance to volunteer at KNTV, she was offered an opportunity to fill in for a week as a paid production assistant on Record Hop, the station's answer to American Bandstand. When the employee she was filling in for decided not to return from vacation, Moellering was hired permanently.
Talk about being in the right place at the right time.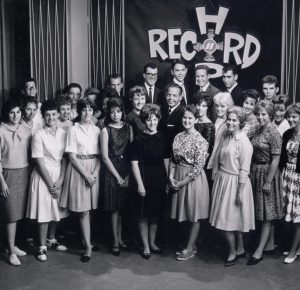 Record Hop was a live, five nights per week show that featured high school students who were invited to the station to dance to the era's hit songs. Moellering would co-produce the show alongside host Frank Darien.
"Performers would come down from San Francisco, where they appeared on Dick Stewart's show (KPIX's Dance Party)," Moellering recalled. "They would come down to San Jose and be on our show. It was so fun, and I met so many people."
Record Hop was a hit for KNTV, by then the ABC affiliate for the Salinas-Monterey market. While the show was popular, it only lasted five years, leaving the air in January 1964.
"The British Invasion was just about to happen," Moellering explained. "The following month, the Beatles came to the United States to appear on The Ed Sullivan Show. But, we were off the air and we missed that entire experience with the Beatles, when hairstyles and culture changed. We were just on the very edge of it all."
"I was lucky to first work with Jan near the beginning of her career, when she produced Record Hop," said Stewart Park (SC 1988), who hosted the final year of the show and who would eventually become KNTV's general manager.
"She made sure all was in order every day by show time. This was all done live, because it was the time before videotape recording was common at TV stations, especially those in smaller markets. Jan can tell you stories about the early days of live Bay Area TV that are both scary and funny. Like the "red alerts" that went out over the station's PA system, when show time arrived but the bus carrying all of the teenage dancers for a featured high school night had not. Jan then joined a small group of other station employees who had quickly assembled and formed a small, tight group in the center of the studio to dance, while the camerapersons and director struggled to make them look like a crowd."
After Record Hop left the air, Moellering created the station's production department with Fred LaCosse (SC 1988; GC 2016), who, up to that time, was also seen on the show and served as its announcer and floor director. LaCosse was the production chief and Moellering was production assistant.
"We were always doing car commercials in our studios," Moellering said. "We would bring cars into our studio and we'd make the commercials right there." The production department also went on location to film commercials throughout the Santa Clara Valley. LaCosse would eventually become KNTV's news director before heading to San Francisco to work as a news anchor and show host at KRON-TV and KGO-TV. Moellering would then become production coordinator, holding on to the job for 40 years.
In 2000, Moellering would switch to the station's programming department, at a time when KNTV would end its 40-year ABC affiliation to prepare to become the NBC owned-and-operated television station for the Bay Area, in 2002. And now, it's 2019, and Moellering is celebrating a milestone that most people rarely ever achieve in their careers.
"She gets a lot of attention for representing the history of KNTV, but that doesn't do her justice," said Stacy Owen (SC 2018), president and general manager of KNTV NBC Bay Area and its sister station, KSTS Telemundo 48. "After 60 years, she is still a major contributor to our success. She has an attention to detail and communication that never wavers. And she's a real team player – interacting with people in every department with the same patience and grace that sets her apart."
"Jan Moellering is a gift that keeps on giving to her favorite place, KNTV," Park added.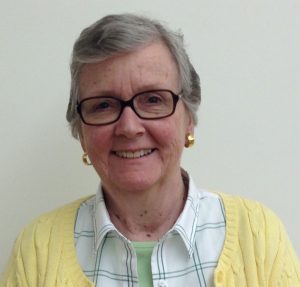 "She has performed a magic trick that rivals any done by Harry Houdini by having her 60-year career take her from the 125th market to the 8th, by staying at the same station", referring to KNTV's eventual transfer on paper from the Salinas-Monterey television market to the San Francisco-Oakland-San Jose market to become the latter's NBC station. In 2004, after 45 years on Park Avenue, the station moved to a larger facility on North First Street.

LaCosse, who went to work for KNTV in 1960, a year after Moellering's arrival, cherishes his 59-year relationship with his longtime friend.
"Jan was very competent, productive and efficient in handling the myriad of details associated with essentially producing Record Hop," LaCosse said. "'Producer' was not her title, however, producer became her function. The 'show host' Darien, the control room director, the floor director [me], the sales department, and the station general manager, all needed details of each daily show.  Our source was primarily Jan Moellering."
So, how long will Moellering keep working at NBC Bay Area?
"I'll work as long as I can," she said."Years ago, I was just happy to get in the door."