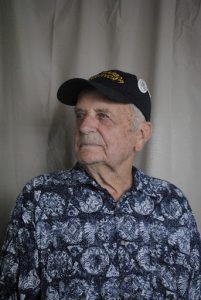 George Larsen, a KRON TV technician, passed away on December 16 at the age of 101. His start at KRON in 1958 was as a cameraman on the telecast of the Cal/Washington State football game. He continued working remote telecasts for the next 27 years.
Looking back, during World War II, George was a Morse code radio operator for the Coast Guard at Oahu during the December 7, 1941 bombing of Pearl Harbor. After WW II, he became a broadcast combo radio operator at KXLL NBC Missoula and then the CBS affiliate in Missoula.
From 1950 to 1953 he worked at RCA Service Co. in Portland and San Francisco. Then he was hired by KPTV, the first UHF TV station in the country and then it became Channel 12 in Portland, Oregon. Next he worked for KGW TV, Portland in 1956. And finally KRON TV hired him in 1958.
There were so many firsts in this industry because it was new. It was just like the cell phone industry is now. TELSTAR I satellite was launched in 1962 for the purpose of sending television across to Europe.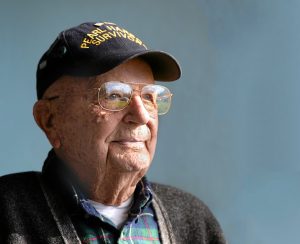 On July 23, 1962, George became the first cameraman to beam a picture from San Francisco to Paris via TELSTAR satellite. George's camera was positioned on the roof of the Comstock Apartments on Nob Hill in San Francisco. The control room was in the penthouse apartment. The sensitivity of the TK30 camera was pretty good, but this day there was a dense fog on the bay. The fog was so thick the bay was not visible. The focus of the telecast was to show San Francisco and its bay and the Golden Gate Bridge to Paris; and they in turn would send us views from their city as an initial trans-Atlantic telecast by satellite. This original satellite was not geo-synchronous. It rotated around the earth every 90 minutes and a window of beaming was only available for 15 minutes or less. The fog did clear up for the shot.
Another problem was that the New York control room asked if we could pick up the fog horns. We didn't have a mike close to the foghorns, so we quickly got a sound effect record of New York Hudson River sounds. We made a tape loop and were able to give them foghorns anytime they called for them. TELSTAR I was still up there in 2013 but it was not functional.
In the process of telecasting Raider football for NBC at Frank Youell Field, NBC decided to make George their FIRST mini-cam cameraman. It was a modified TK 30, black and white camera that weighed about 140 pounds. Much of the weight was in the viewfinder which they replaced with a sport viewfinder. The remainder of the camera was still pretty heavy. After toting that thing on his shoulder for half the game, George said, "Give this camera to someone else, it's too heavy." It was called a Press Orth. You won't see that listed anywhere.
In addition to Live sporting events, George was assigned to a series of medical shows that were recorded at different hospitals around the Bay Area.
Also KRON initiated 6 plays that we taped and edited on video tape.
George received an Emmy® Award for his work as a cameraman for the Mayor Moscone / Supervisor Milk funeral service, and a George Foster Peabody Broadcasting Award for an Assignment Four program in 1966.