By Joyce Mitchell
Sacramento Region Vice President
For decades, KOVR 3 Reporter John Iander graced the airwaves in Sacramento with solid news stories and creative specials. He was known for being able to turn just about anything into something worth watching.
January 2021, one year after being diagnosed with stage 4 cancer, Iander lost the fight for his life and died. He endured 18 rounds of chemotherapy and his wife Vickie Iander said he never complained once.
Iander worked at KOVR 13 for 35 years and was inducted into the NATAS NorCal/SF Silver Circle Class of 2008. Always, he was one of the first to reach out and mentor new people venturing through the station's door.
"John was such a kind man and mentor in the KOVR 13 newsroom," said CBS 13 Anchor/Reporter Kurtisimo Mingus. Former co-workers describe Iander as very down to earth, a true journalist and determined reporter.
Many staff photographers said that they loved working with him because he was organized and very clever. Iander could make a story as mundane as the history of the "paper clip" – into something memorable.
While working at KOVR, Iander partnered for years with Photographer Marty Hernandez. Unfortunately, Hernandez died several months ago after struggling with a series of challenging illnesses. In March 2020, KOVR pulled together a Zoom memorial of 50+ KOVR alumni for Hernandez.  Iander found priceless photos of the two of them traveling around the world, producing documentaries on the politics of foreign governments.
"He and Marty are a great team again, scouting out heaven's back roads, finding the best stories," said Mingus. True professionals, Iander and Hernandez did not miss deadlines. A long, solid background of reporting and photography, the team refused to let down the station when it came to filling their time slot. Often, the two dared to try something different in an all-out effort to make memorable TV.
Hilary Bacas Vos was a KOVR 13 line show producer when Iander was reporting. She knew she could count on him. "Another one of the greatest has left us," said Bacas Vos. "I had so much respect for John when we worked together – a consummate professional and great guy."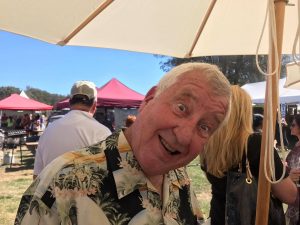 Iander began his career in broadcasting in 1963 hosting a weekly high school talk show on KHJ-Radio in Los Angeles. He held jobs at KNBC and NBC Network News before joining KXTV 10 in Sacramento as an assignment manager. While there, he also filled in as acting news director, anchored and reported.
Then across the street he went and in 1973, he became assignment manager and acting news director for KOVR 13. A couple of years later, Iander became the station's Capitol correspondent, covering politics and hosting a weekly program.
Iander was a licensed pilot, an Emmy® Award recipient and has been recognized for his work by the Associated Press, United Press International and NATO.
He is survived by his wife Vickie and daughter Liz – who just recently graduated from college. After leaving KOVR 13, Iander continued to report as an independent broadcast journalist. His Sacramento area roots run deep and he is dearly missed.