By Toby Momtaz
Education Committee Chair
---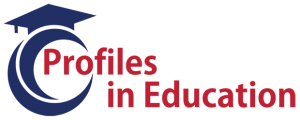 Profiles in Education is an effort to introduce media program educators in our region's high schools and colleges, as well as to recognize their achievement in offering career pathways in broadcast journalism, production and content creation to the future generation.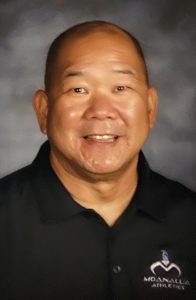 Meet Mark Ikenaga. He's been teaching secondary education for 25 years in the State of Hawaii. The subjects he currently teaches are Advanced Film and Intermediate / Advanced Acting.
Ikenaga who is a graduate of University of Hawaii, with a degree in Family Resources, went back to Chaminade University of Honolulu to get his secondary education certificate. He started teaching at Moanalua High School with few beginning acting classes and eventually added more classes as the interest grew.
Ikenaga eventually took over the Drama Department and teaching Media courses as well. To prepare himself for his new role, Ikenaga attended editing workshops at the university on weekends and evenings and studied Final Cut Pro, Photoshop, Soundtrack, and Illustrator, which led to discovering his new passion in media, creating stories, and teaching.

Moanalua High School has about 2,000 students representing 15 ethnicities. The school is nationally recognized for its media, music, business, and art programs as well as having 24 division 1 sports teams – which is why Moanalua High School boasts itself as one of the top high schools in the State of Hawaii.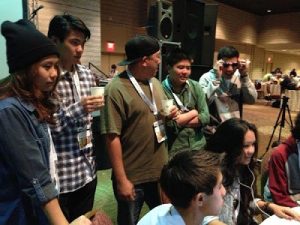 MeneMAC is Moanalua High School's technology and learning center program consisting of two main storytelling programs – Broadcast Journalism and MeneMAC Film. Students create content such as short films, documentary, music video, public service announcements. Ikenaga tells his students that they live in a world that is abound with creativity – a world that is waiting to be discovered. His students are trained to see the world in a different way through critical eyes. MeneMAC is also a Geographic Exception Program which means that student from other high schools can apply to be a part of MeneMAC at Moanalua High School if media courses are not offered at their own high school. You can watch a MeneMAC's commercial produced by students here.

Ikenaga encourages his students to participate in various competitions throughout the school year. Here's short list of Moanalua High School's noteworthy wins since 2006:
Olelo Youth Exchange Award with 27 first place awards

Student Television Network with 25 first place awards

National Student Production Awards with 14 Excellence Awards
Among Moanalua High School's successful alumni, Ikenaga lists the following:
Peter Tang (2004 graduate) working at Hawaii News Now

Kristy Tamashiro (2011 graduate) working at KHON

Frances Uy (2020 graduate) working at PBS

Renee Kuwamoto (2010 graduate) working at KHO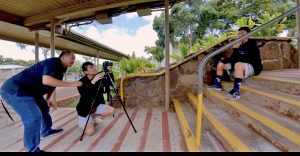 When asked about his long-term goals, Ikenaga says: "Our goal is to create a Media Academy at our school where students will attend our school strictly for Media. This will be their major like in college. So, student will need to complete their prerequisite classes during the first two years, but in their junior and senior years, majority of their class load would be Media."

---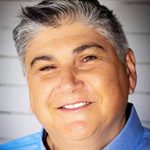 Toby Momtaz is a Producer at PBS KVIE in Sacramento, California
Monthly Profiles in Education from our region
NATAS welcomes contributions to the Profiles in Education from all chapter areas.
To be included, please contact Toby Momtaz at toby@emmysf.tv.