By Toby Momtaz
Education Committee Chair
---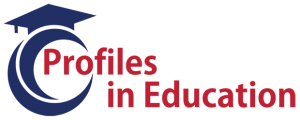 Profiles in Education is an effort to introduce media program educators in our region's high schools and colleges, as well as to recognize their achievement in offering career pathways in broadcast journalism, production and content creation to the future generation.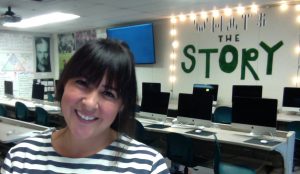 Meet Ellie Hebert. She is an AVID Media Composer Certified Instructor who teaches Intro to Video, Advanced Broadcasting, Advanced Filmmaking, and Advanced Cinematic Arts to the Media Arts Academy students at El Diamante High School in Visalia.
Hebert who grew up in Visalia, first fell in love with filmmaking in 7th grade when she was asked to film her video teacher for a class project. Hebert says: "I remember watching the video in my science class in front of the audience and being so excited that I was the one that filmed that!" After graduating from El Diamante High School in 2009, Hebert was accepted into the Cinema and Television Arts program at California State University, Northridge where she developed a passion for editing. In her junior year, Hebert was offered a full-time position at Bunim-Murray Productions which over time led to working on television shows like Real World, Best Ink, Love Thy Sister, Motor City Masters, and Keeping Up With The Kardashians.
In July of 2016, Hebert moved back to Visalia when she was hired by El Diamante High School as a Photography and Video Teacher. Hebert says: "I had known since high school that I wanted to be a video teacher, but my own high school video teacher, Jim Sill, told me to go out and work in Los Angeles and gain career and life experience." Hebert is convinced that was the best advice she has gotten. Hebert adds: "Because now I can bring my knowledge of working in the industry directly to students in the classroom as a CTE teacher. I was able to live out my dream of becoming an editor before moving back to Visalia and live out my second dream of becoming a video teacher!"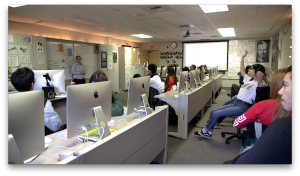 Opened in 2002, El Diamante High School – with over 2,000 students – is one of four public high schools in Visalia and has housed their Media Arts Academy since 2015. The academy is a rigorous 4-year program that teaches students about the film and television production industries – everything from pre-production to post-production, graphic design, props, story board design, costume/make-up design, distribution, and so much more. You ca learn more about El Diamante High School's Media Arts Academy pathway here.
With only 6 years under its belt, the Media Arts Academy students have been nominated for numerous film festivals and honored with 12 Slick Rock Awards. This year, their short film "Incursion" won Best of Show and Best Blockbuster at Slick Rock, nominated for Best Practical FX at First Contact Short Film Festival, nominated for Best Sci-Fi/Horror/Fantasy at All American High School Film Festival, nominated for Best High School Short at LA Shorts Film Festival, and won the NATAS National Student Production Award for Best Short Form Fiction. Hebert is excited her students are competing – and winning – at the national level. You can watch the Media Arts Academy.
Five of the El Diamante High School's Media Arts Academy alumni have been accepted into California State University, Northridge, and four alumni have moved onto California State University, Fresno to join their Broadcasting program. Hebert says: "I consider all of our alumni to be successful – either they are finding and pursuing work in this field, or they've avoided paying for expensive college courses! I'm truly happy either way!"

---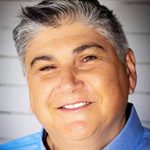 Toby Momtaz is a Producer at PBS KVIE in Sacramento, California
Monthly Profiles in Education from our region
NATAS welcomes contributions to the Profiles in Education from all chapter areas.
To be included, please contact Toby Momtaz at toby@emmysf.tv.