By Kevin Wing
Senior Correspondent, Off Camera
Rosa del Duca is an accomplished writer and producer. In television news for nearly 15 years, she has been with KNTV NBC Bay Area for most of that time, writing and producing the station's 5, 6 and 11 p.m. newscasts.
She is also a performer. No, she is not in front of the camera as a television reporter or anchor, but as a musician, she often performs in Bay Area coffeehouses, clubs and at other venues. And, this talented folk rock singer – who just happens to have a nose for news – doesn't stop with the Bay Area. Oh no, not at all. She travels the open road, performing around the country.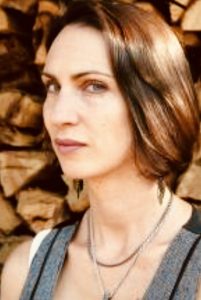 Did we mention she has been a professor of English and comparative literature at San José State University, too?
Multi-talented, right? You bet she is. And now, del Duca has added something else to her repertoire. Of course, with her extensive writing and literary background, this is really no surprise at all.
While del Duca is not only a standout in the KNTV newsroom, she is also a standout on bookstore shelves and online as the author of a new book, Breaking Cadence. From Ooligan Press, del Duca's first published book effort debuted May 21, and sales are already going strong.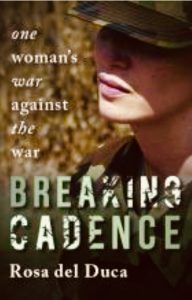 Her book chronicles her journey, from growing up a tomboy in Montana to enlisting in the Army National Guard to help cover most of her college tuition.
So, she signed up – at 17 — to be a soldier one weekend a month and two weeks every summer, for six years. Her mother, Linda, had to co-sign for her since she was underage.
Del Duca went through boot camp, "it was an emotional and physical challenge", she says, and contracted mononucleosis and became so sick that she was sent home to recuperate.
She eventually returned. But then, Sept. 11, 2001, happened.
With the United States military's involvement in the Middle East increasing at that time, del Duca found herself torn between her escalating moral disagreements with the U.S. military's actions overseas and her promise to the Army National Guard.
Just as her book cover suggests, del Duca's Breaking Cadence is about her "war against the war."
"When we first went into Afghanistan," del Duca explains, "I could see the direct line there. Nineteen terrorists attacked our country. I saw that as legitimate and it made sense."
But, for del Duca, the "turning point" came when then-President George W. Bush took weapons inspectors out of Iraq.
"He sent them in to track down weapons of mass destruction instead of letting them do their jobs," she says. "Suddenly, they were being kicked out of the country. (Bush) was just rushing to war. It seemed really rash to me. And the way Bush would tie it to 9/11."
Del Duca wanted to voice her opposition to the war, but she knew it would mean branding herself a traitor in the eyes of the peers she came to know as her second family.
Now, with her book – released just six weeks ago – she is no longer staying silent.
By the thousands, del Duca says, civilians were being killed.
"Every single development over there was such a disaster that it just disturbed me that, at a certain point, I didn't want anything more to do with the military," del Duca says. Signing a six-year contract with the Army National Guard, she thought "that was it" when she got called up in 2004.
"I thought I had to go to war, even though I hated anything to do with the war," she explains.
Del Duca, who was born in Arizona and grew up in Montana, says she rewrote the book numerous times. She gave it a different beginning several times before settling on how it wound up in the book.
The book charts del Duca's slow trajectory of becoming a conscientious objector. Her experience with the Army National Guard helped her to gain a powerful voice and to stick up for her beliefs.
Reading her new book has proven that del Duca has learned the importance of standing up for what she believes in, even when it means that she is setting herself apart.
Del Duca, who lives in Castro Valley with her husband, Nick, and their two children, features more of her work on her website, rosadelduca.com.