By Kevin Wing
Senior Correspondent, Off Camera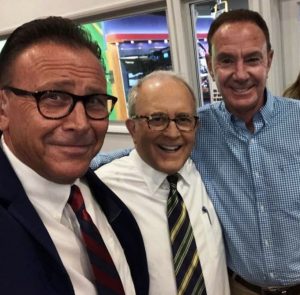 How lucky can one small-market southern California television station get when it manages to recruit two retired major-market veteran reporters from Northern California?
That's seriously lucky.
And, it's even more fortunate for KMIR NBC Palm Springs, considering the station has been a perennial No. 2 station in the ratings through the years in the Palm Springs market. Now, some serious momentum is happening for them. While they are still second in the ratings to market leader, ABC affiliate KESQ, KMIR's viewership is growing while KESQ's is shrinking.
Enter Hank Plante and Dan Adams.
Plante, who worked as a reporter, anchor and political reporter at San Francisco's KPIX 5 for nearly 25 years before retiring in March 2010, has come out of retirement, assisting KMIR with its political coverage, serving as an on-call political analyst. He's been contributing since 2015.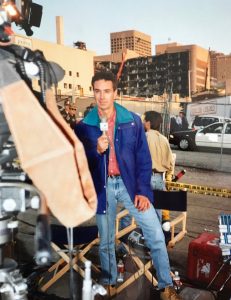 Adams, who served as a reporter for Sacramento's KXTV 10, is also associated with Palm Springs' NBC station. Since 2015, Adams has been serving as a one day a week news consultant to KMIR's staff of young reporters, coaching them on storytelling skills, on-air delivery and camerawork.
What a winning combination. So, how did this one-two punch in Plante and Adams even happen for NBC Palm Springs? Well, it was all about timing. Both veteran reporters, who are also longtime friends, relocated individually to Palm Springs. After Plante retired from KPIX, he moved to the Coachella Valley, home to such desert addresses as Palm Springs, Rancho Mirage and Palm Desert. Once in Palm Springs, Plante began writing a column for the local newspaper. KMIR took notice and asked him if he would be interested in working with them on their political coverage.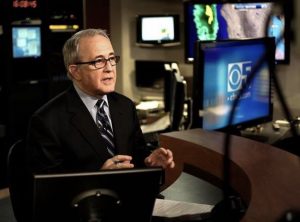 For Adams, he moved from northern California to Mexico after retirement, but then relocated to Palm Springs in 2015, the same year Plante began working for KMIR.
"Hank suggested that I get involved in the community, and then suggested that I contact KMIR," Adams says. "I ended up meeting with the news director and the general manager."
Ross Becker, KMIR's news director at the time, was very interested in bringing Adams on board, too. He knew that Adams could bring a fresh approach to the station through consulting with its reporters.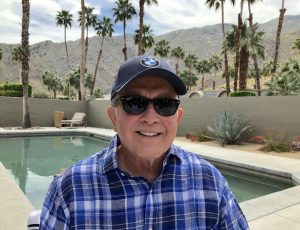 "I suggested that the reporters tell stories," Adams adds. "That they talk to the people being impacted by a story. Rather than see them interviewing a cop about what happened at a crime scene, I suggested that they talk to the people. That's the heart of the story."
With the station now strongly identified after branding itself as NBC Palm Springs, it was delivering a different kind of newscast than it had ever done before. The station changed its direction of how it produces its newscasts. Its news philosophy changed, Adams says.
And, viewers are taking notice. While KMIR is still in second place to first-place KESQ, its numbers are improving.
The station will often call Adams to alert him about a breaking story. If he is available and in the immediate area, he will then go to the scene and meet the reporter there, where he then offers assistance in gathering the story. On the spot, he then offers tips and advice to the reporter about how to make the story more compelling for television.
"It's so rewarding to see these reporters doing well," Adams adds. Since joining the station as a news consultant, he has worked with seven or eight reporters. Some have already gone on to major markets, like Lauren Day, who reported for KMIR. Recently, she moved back to her native Hawaii, where she is now reporting for KHON in Honolulu.
Last year, the station was about to experience its 50th anniversary, but when Adams found out that the station had no plans to mark the occasion, he told them what a perfect opportunity would be to celebrate 50 years in the community.
"I said, 'you have to do something'", he explained. So, with Adams' help, they rounded up archival material starting from 1968 onward to put together a nice on-air celebration of KMIR's half-century of service to the Coachella Valley.
How much does Adams get paid to be a news consultant to the station?
Adams, who was inducted into the Silver Circle of the San Francisco/Northern California Chapter of The National Academy of Television Arts & Sciences in 2005, isn't earning a salary at KMIR. Not one penny, actually, though he admits the station paid him once for working an extended period of time.
Rather, Adams is compensated with $100 gift cards to area restaurants. No kidding.
And, he is fine with it. He says it is a pretty nice arrangement. "I love to eat," he says.
"This has really been fun," he says. "I'm a journalist and I always will be. It's in my blood. I want to make these reporters better."
Plante, also a Silver Circle inductee (he was enshrined in 2006), provides a sharp eye to KMIR's political coverage, whether it is for local politics or the national stage.
"Local journalism has an influence," Plante says. "I'd forgotten how much it does."
That is why he joined the editorial board of the local newspaper that he started writing a column. Then, KMIR came into the picture.
Plante says KMIR produces and presents political candidates' forums that he is now involved with.
"It's the same with breaking news," he adds. "A big story like the Mueller report. When it came out, I went in to the station and was on all three shows, at 5, 6 and 11 p.m., to provide comment on the story."
Like Adams, Plante feels very lucky about the timing that brought television news back into his life.
"You never get it out of your system," he explains. "You are always going to be a reporter. You are always noticing stuff. I have given the station, and the newspaper, so many stories."
Plante, who not only served as a reporter and political editor for KPIX during his quarter of a century there, he also anchored the station's 5, 6 and 11 p.m. newscasts. It was life in the big city.
But, that was then.
"I'm very happy to not be living in a big city anymore," Plante says. "I feel like I have found the right balance here in Palm Springs."
It appears NBC Palm Springs has found the right balance with having Plante and Adams in their wheelhouse. At least, the numbers reveal that. People are watching.