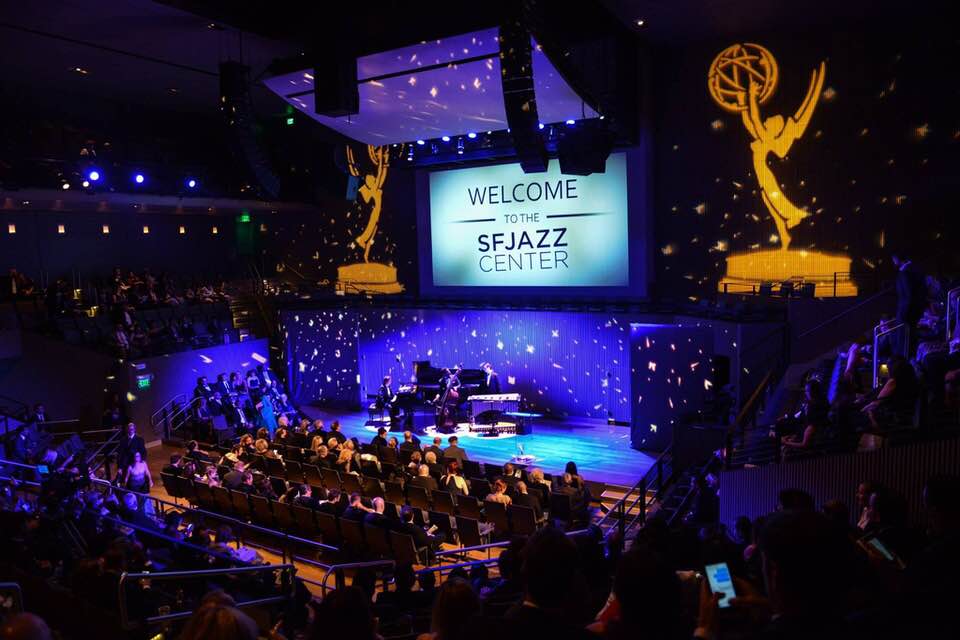 The 47th Northern California Area Emmy® Awards will be the big event in San Francisco this Saturday evening, June 2.
The Emmy® Awards Gala, to be held at the city's classy SFJAZZ Center, recognizes outstanding work in television in the San Francisco/Northern California Chapter of The National Academy of Television Arts & Sciences, which represents the San Francisco-Oakland-San Jose, Sacramento, Fresno, Reno, Salinas-Monterey, Chico-Redding, Hawaii and Guam television markets.
A reception begins at 5 p.m. The awards program begins at 6 p.m. The event will also be webcast LIVE on the Chapter's website so friends and family around the world can watch! The evening's Red Carpet interviews will also be webcast LIVE.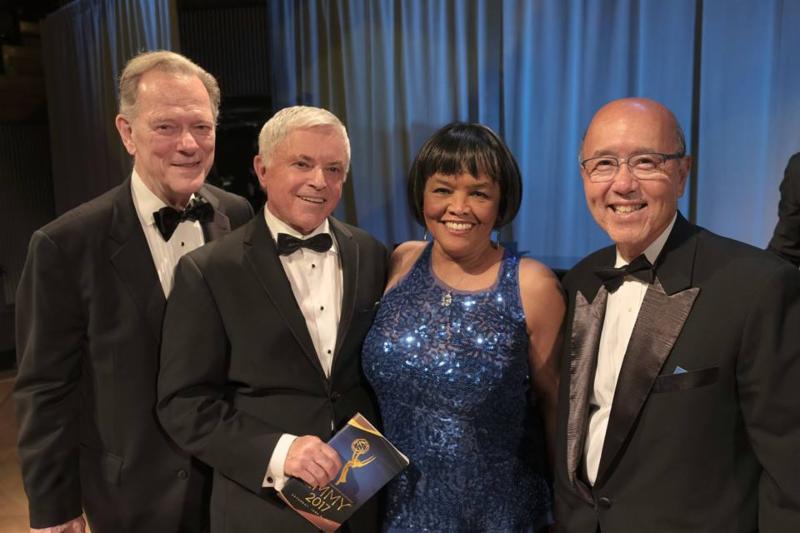 Wayne Freedman, of KGO-TV ABC7 and our Chapter's awards chairperson, will begin the program with opening remarks. Fred LaCosse, David Louie, Barbara Rodgers and Don Sanchez will serve as the evening's presenters. All four have had celebrated careers in Bay Area television, spanning nearly six decades, from the 1960s to the 2010s, and all are inductees of the Chapter's distinguished Gold & Silver Circle. Handling the interviewing of the Emmy recipients as they walk on to the Red Carpet will be Da Lin of KPIX 5, Kevin Wing of KNTV NBC Bay Area and Melanie Woodrow of KGO-TV ABC7.
Emmy® Etiquette
First, your Emmy® Gala Committee congratulates you on being a 2018 Emmy® nominee! We need your help in streamlining an inevitably long show.
We will announce category recipients simultaneously. When you hear your name, please enter the stage from audience left. There, Mr. or Ms. Emmy® will present you with a statuette and direct you to your podium. When you conclude, we will drop your lights and illuminate recipients at the second podium. After they finish, Mr. and Ms. Emmy® will escort you from the stage.
Each nominee has submitted the name of a designated spokesperson. When the host announces a recipient, he or she will introduce him or her. If your spokesperson is a no-show, another qualified party may accept the statuette in their place. Other named, receiving parties may join your spokesperson on the stage, but please, no additional speeches.
If you did not submit a spokesperson, then the host will simply announce the award recipient and move on to the next category.
We will limit all speeches to 30 seconds. After that, the music will start and your podium lights will start to dim. Don't get caught doing pantomime in the dark.
If you have already given a speech or are not the designated spokesperson, we will not turn on the microphone.
Please note that the statuette you receive on stage has no names on it, and will not be the one you take home. Please return it after we escort you from the podium.
From backstage after your speech, we will take you to the Red Carpet where you will receive your engraved statuette. Talk as long as you like while we interview you for the LIVE webcast and take your formal picture.
Wondering about Judging Procedures?
The San Francisco/Northern California Chapter annually honors outstanding individual, news and program achievements in Northern California, Hawaii and Reno. The Emmy® Awards program provides recognition for the talented individuals who comprise this business, and honors them for outstanding achievements.
There can be one award, more than one award, or no award presented in each category.
Our Chapter saw a record year for entries from 2017. The English contest had 784 entries in 62 categories. The Spanish contest had 218 entries in 42 categories.
Entrants submitted and uploaded their work online through Emmy® Express. This year, our judges represented NATAS chapters in Boston/New England, Chicago/Midwest, Heartland (Denver), Lone Star (Texas), Mid-Atlantic (Philadelphia), and the Sun Coast (Miami). A minimum of seven peers scored each entry for content, creativity, and execution. Each was worth 10 points, for a maximum total of 30. In craft categories, judges scored for creativity and execution only, with 20 being a perfect mark.
After viewing all entries in a category, every judge certified his or her scores and submitted the ballot directly to our accountant for processing.
Later, that accountant provided the Awards Committee with a tabulated sheet containing columns of scores, each representing a category. The committee determined nominees based on national guidelines for excellence. They awarded statuettes to the highest scores or, in rare cases, more than one exceptionally deserving score.
At no time did the Awards Committee know which categories they were considering. They nominated 218 entries in the English contest, and 81 entries for the Spanish.
Be a Judge. You can make a difference in next year's Emmy® Awards ceremonies at other chapters of NATAS across the country when you judge their entries! Ask for more info: office@emmysf.tv
In the meantime, enjoy the Gala and raise a glass of champagne to this year's Emmy® Nominees and Recipients!
TRAFFIC ADVISORY: Clusterfest 2018 is another big event in the City this Saturday – here is traffic and transport info
Back to "Off Camera" INDEX page..