By Kevin Wing
Editor, Off Camera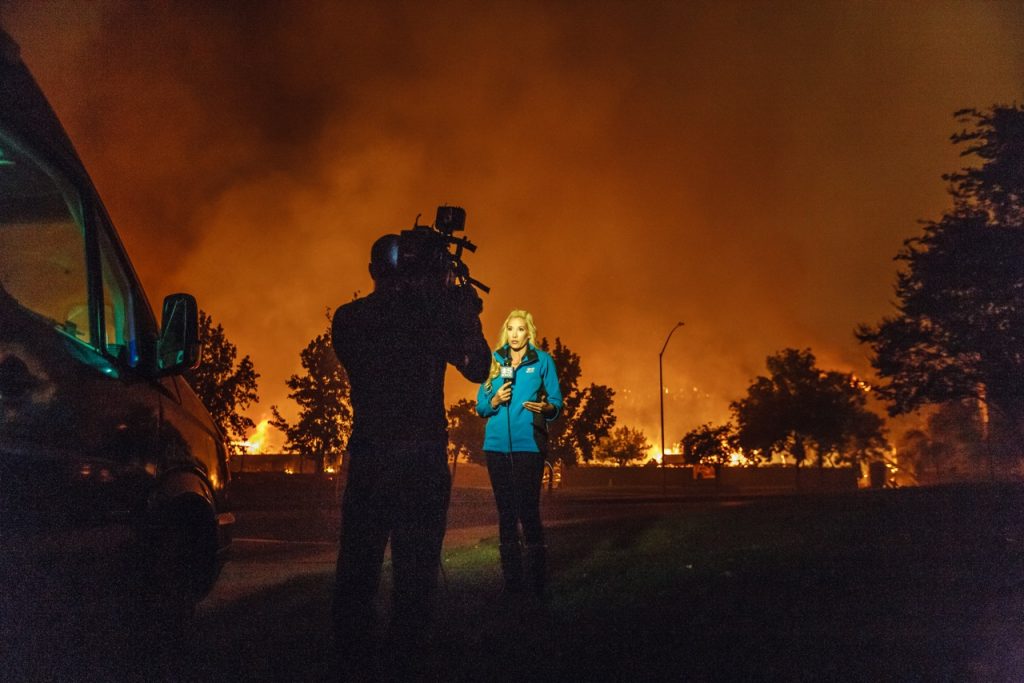 San Francisco's KPIX 5 has been honored with two national awards for its coverage of the devastating North Bay wildfires that ravaged the city of Santa Rosa and Sonoma County in October.
Reporter Katie Nielsen and photographer Gregg Welk have received the National Headliner Award for Breaking News Coverage. The award is one of the oldest and largest annual competitions recognizing journalism.
The duo also received the Sigma Delta Chi Award for Breaking News, Large Market, from the Society of Professional Journalists. The title for both entries was "A City Turned to Ash: The Morning a Wildfire Destroyed Santa Rosa".
"The fires started late at night on October 8th," Nielsen said. "Gregg and I were both called in early and started our coverage at the Kaiser (hospital) in Santa Rosa, where 100 patients had to be evacuated. What we didn't know at the time was the fire was burning directly behind the hospital, threatening the oxygen tanks. It was burning in Journey's End mobile home park."
Throughout the course of the morning, Nielsen and Welk worked from eight separate live shot locations from around Santa Rosa, including the hospital, Journey's End, the Fountaingrove Inn, a strip mall, the Wine Country Hilton and the Sunset Vista neighborhood in Fountaingrove.
"We did a total of 21 live shots, some almost 20 minutes long," Nielsen recalled. "I remember thinking during our coverage that morning, this is a once in a lifetime story. It's the type of event that leads us to this profession, when the information we are able to provide is critical to people's lives and safety. I will never forget the heartbreak we saw, the acrid smoke smell that lingered in my clothes for weeks even after multiple washings, or the bravery and tireless effort of firefighters over the next few weeks."
The KPIX entries for both awards were composites of Nielsen and Welk's work from their first morning covering the wildfires and explaining the news of Santa Rosa's destruction to viewers.
"As we moved around Santa Rosa that morning, we knew the fires were unprecedented and the destruction beyond comprehension," Nielsen added. "It's in those moments you realize what a valuable role we play in getting information to our communities. I'm humbled and proud to be a part of the KPIX team that did an outstanding job of providing that information in such a trying time and incredible circumstances. I'm honored to see my name alongside such incredible journalists who also won these awards."