By Joyce Mitchell
Chapter Vice President, Sacramento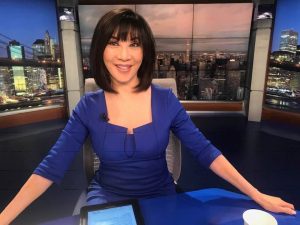 In the middle of a game, Mets announcers give former San Francisco/Sacramento reporter/anchor a big shout out to get well! It was a big surprise to Kaity Tong – who's been under the weather.
Experiencing some complications from a surgery last year, Tong was off the air middle of May – unable to anchor her weekend newscasts. Not only did viewers miss seeing her – but so did the New York Mets! The major league baseball team delivered Tong a "get well" message during the middle of a game. Click here to view the video.
Tong began her career in the mid 1970s at San Francisco TV station KPIX. From there, she took an anchoring position at Sacramento's NBC Affiliate KCRA.
Then it was on to the Big Apple. First ABC 7 for a decade and then WPIX where she's been the main anchor and now does weekend shows.
An NYC icon, Tong started in TV while studying for her PhD at Stanford. Tong has received numerous Emmy® Awards for her work. In 2018, New York City acknowledged Tong with the prestigious Governors' Award.