By Kevin Wing
Senior Correspondent, Off Camera
I admit it. I was star-struck when I attended the 46th Daytime Emmy® Awards in Pasadena in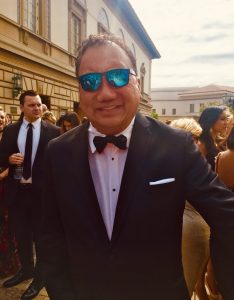 early May. While I've always said that our annual regional Emmy® Awards Gala here in the Bay Area is quite special, I've never attended the national Emmy® Awards, whether it be for Daytime or Prime-Time. So, to have an opportunity to see this year's Daytime Emmy® Awards, I jumped at the chance.
The Daytime Emmy® Awards were presented May 5 at Pasadena's historic Civic Auditorium, home to the Daytime Emmy® Awards for many years. Built in 1932, it's one of the nation's most revered performance halls. In addition to the Daytime Emmy® Awards, the Civic is also the proud home of numerous conventions, international concerts and other awards shows, and was the home to the annual Prime-Time Emmy® Awards for more than 20 years.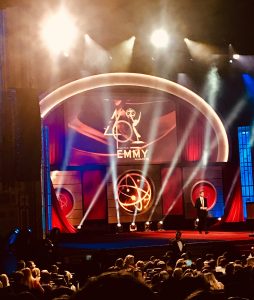 The Civic is such a fitting venue for an awards show as grand as the Daytime Emmy® Awards. Turning down East Green Street to arrive ourselves, we knew we were in the right place. Without a doubt, there was excitement in the air. And, there were hundreds of people standing out in front of the Civic to catch their favorite TV stars walking along the Emmy® Red Carpet on their way inside. Once we parked our car, we picked up our tickets. Since we had some time before the show began, we decided to see if we could see some TV stars ourselves. We staked our territory between the building itself and the Red Carpet. Within minutes, a black SUV with tinted windows pulled up along the curb, and out stepped Wayne Brady. He walked right by us; we said hi to him, but so did everyone else. As we waved to him, he said hello back to us. It was so very cool. And then, we spotted Rachael Ray walking in as well. All of this happened within the first 10 minutes!
As we waited to go inside ourselves, we struck up a conversation with a well-dressed man decked out in his tuxedo (like I was). We chatted about the notion that we were about to see the Daytime Emmy® Awards for the very first time in person, and he was incredibly happy for us. He turned out to be a talent agent, and he slipped me his business card. Wow, I thought, he had offices on both coasts. He told me to stay in touch. When I returned home to the Bay Area, I wrote him an email like he asked me to. Well, it's been nearly a month since the Daytime Emmy® Awards, and I haven't heard back from him. Maybe that's how they do it in LA: don't call us, we'll call you, haha. I'll keep you posted.
Once inside, it was easy to see how historic the Civic is. It is so beautiful inside. And the brightly-lit colorful stage was quite awesome. The set designers did such a fantastic job with everything.
The electricity in the audience intensified as the show director gave us a countdown to show time. Finally, the show began, on time. They don't fool around down there. This awards show, which was televised for years in prime-time, wasn't telecast this time, but the entire program was streamed live.
The first number on stage was a celebration of Sesame Street, which is celebrating its 50th anniversary this year on PBS. It was a colorful segment, featuring all of the Muppets along with children of all ages, singing a few of the show's signature songs we've all grown to know and love through the years.
I really wanted to see Alex Trebek. I grew up on game shows, and I've been a big fan of his since he hosted a couple of game shows in the 1970s, Double Dareand High Rollers. Of course, Trebek is known for Jeopardy, which he has hosted since 1984. Trebek was up for outstanding game show host, and he won. Ever modest, he walked on to the stage to a standing ovation. It was easy to see how everyone loved this man. He finally spoke and said he was humbled by the honor, but in such a classy way, he acknowledged that, perhaps, he had won out of sympathy following his recent pancreatic cancer diagnosis. It was clear from the audience's reaction, with another standing ovation, that Trebek's receiving of the honor that evening was well-deserved for his hosting of one of America's longest-running game shows. Speaking of game shows, Family Feud won for best game show. Apparently, it was the first time in nearly 30 years that the long-running show – it first premiered in 1976 with host Richard Dawson – won in that category.
Another crowd-pleaser was Judge Judy Sheindlin. That evening, she was the recipient of this year's Lifetime Achievement Award. Her show, Judge Judy, has been on since 1996, and it's very clear that Sheindlin is a rock star. Everyone loved her. She, too, received a standing ovation. We watched a wonderfully-produced short video on Sheindlin's career in law. The last half of the video showcased Judge Judy's funniest moments and Sheindlin's trademark responses to anyone who enters her courtroom. She was quite a treat for all of us.
Of course, the Daytime Emmy® Awards is not just about game shows, entertainment shows and talk programs. All of the daytime soaps were well-represented in the audience, with some soap stars sitting directly in front of us in the audience. Shows like The Young and the Restless, General Hospital and Days of our Lives, among all the others, were up for countless awards. It was a lot of fun watching the actors run up to the stage to collect their Emmys.
The show ran exactly three hours, beginning at 5 p.m. and wrapping by 8 p.m. (8 p.m. start time for East Coast online viewers). I thought it was a very well-produced show. It had everything: entertainment, well-balanced segments and, of course, excitement. We – the San Francisco/Northern California Chapter – are proud to be associated with The National Academy of Television Arts & Sciences. Wonderful memories from a very memorable evening in Pasadena. I would definitely attend again someday. Maybe I'll go next year. After all, I need to track down that talent agent.