Larena Baldazo
Marketing Chair
Just when you thought you had Facebook all figured out, a new algorithm came in and changed the game. So, we teamed up with The Society of Professional Journalists, and offered a free Facebook for Journalists Workshop, Saturday, Feb. 22, to educate members about all-things-Facebook and algorithm driven.
Lynn Walsh presents the benefits of having a Facebook Page vs. a Profile, in her workshop, Facebook for Journalists.
Walsh, an Emmy® award-winning journalist based in San Diego, led the online workshop and outlined the details around Pages vs. Profiles, how and why to Go Live, as well as the benefits of creating Facebook groups for your newsroom.
Did you know, Facebook's algorithm monitors more than pages you Like and your connections?
It keeps track of the types of posts you comment on and share (it's tracks all your engagement), which is then ranked to ultimately create what you see on your newsfeed.
This is why engagement is so important on Facebook, as well as Instagram.
"Reply, and build a conversation and community, people will stick around," — Walsh
She went into detail, about how interacting with your online communities is the key to staying relevant on their news feeds. So, if you've been wondering how to beat the algorithm…problem solved. Just know, it's going to take some time to work up to the visibility Facebook once gave away so freely.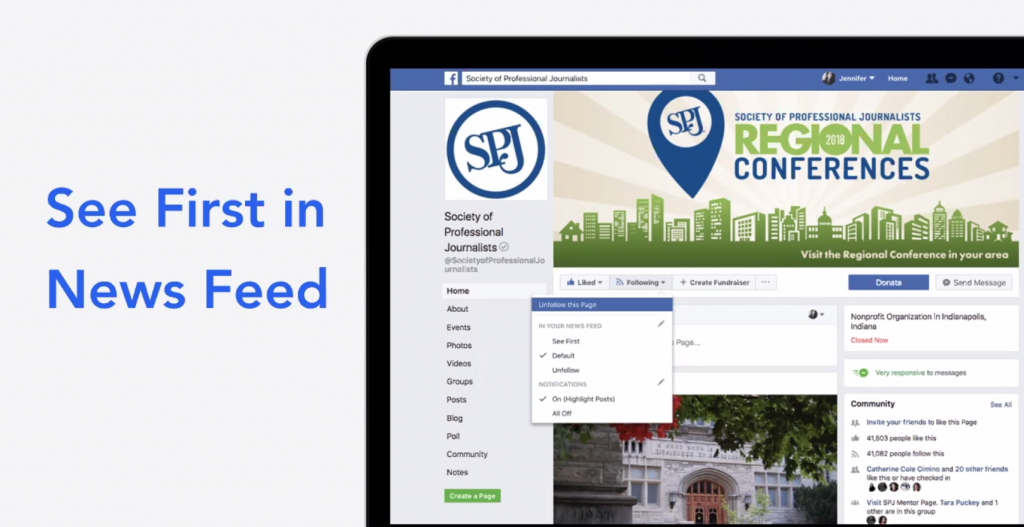 In discussing page versus profiles, the analytics feature seemed to be the biggest driving force for media professionals. After all, this is how you measure what works for you and the content your audience responds to most.
Overall, members appreciated the information Walsh was able to package up into a 90 minute presentation and were eager to apply her tips and tricks to creatively promote their stories online.
"Our job must be promoted in social platforms in order to get more viewers since nowadays people consume news with their cellphones." says Arlen Fernandez, Consumer Investigative Reporter at KSTS Telemundo 48.
The workshop, held via Zoom, concluded with the basics on cyber security and a reminder on journalism ethics.
"What is legal is not always ethical and newspaper ethics should apply to your website and social media," says Walsh.
To view The Society of Professional Journalists' code of ethics, click here.
Interested in booking a Facebook training with Walsh and SPJ? Click here.