Article submitted by:
Steve LaRosa – Steve LaRosa Productions
---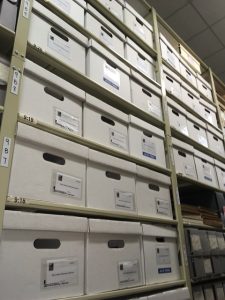 For those TV and radio folks who find their homes cluttered with boxes of their "greatest hits" and are looking for a solution to their domestic overcrowding, the Center for Sacramento History may just have the solution.
The Center houses a large collection of moving images in film, video, and digital formats. The largest portion comes from the KCRA-TV Film Collection and the KOVR-TV Film Collection, both of which contain raw news footage and edited programs dating from the late 1950s.
The Center is equipped to accept most audio, film, and video formats.
Many of those formats are such that you probably wouldn't be able to view them anyway, due to not having the suitable equipment. And it would be a shame for them to end up in a garbage dump someday when they could be saved for posterity and for use by future media producers as well as general historic research.
"In order to better preserve our film holdings, the Center has recently completed construction of a cold storage room within our vault. The cold storage room will allow us to preserve our film holdings and buy valuable time to digitize the film without it decaying."
—Nick Piontek/Archivist-Center for Sacramento History
Those interested can contact: Nicholas Piontek at the Center.
Contact info: npiontek@cityofsacramento.org