Jerri Lange, 96, Bay Area media legend, social activist, educator, and author has passed. A native of Berkeley, Lange was an award-winning journalist who also hosted community-based television shows in the Bay Area on KEMO, KBHK, KGO, and KQED.
Lange was a San Francisco State University professor, a Stanford University lecturer, a San Francisco Chronicle correspondent, the founder and publisher of Amberstar Magazine, and the author of Jerri, A Black Woman's Life in the Media.
Lange's desire to learn from different cultures around the world, and her compassion for all humanity, crossed divides and strengthened communities. Lange used her passion to inspire people, especially young African Americans, to accept the idea that we are all bound to the same source, as she promoted education, research, and travel.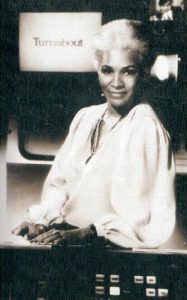 Lange is survived by her two sons James Cowan (print media businessman) and Ted Lange (playwright and actor "The Love Boat, bartender, Isaac " ).  Her son Michael Lange (director-filmmaker-actor "Malcom X"), died in 2015.
Link to San Francisco Chronicle Datebook: Jerri Lange, pioneering Black TV producer and host, dies at 96