Awards Chair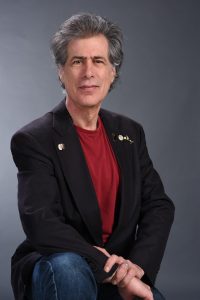 On our 50th anniversary, we bestow Steve Shlisky with the Governors' Citation. It is our second-highest award, given in recognition of outstanding and unique achievements or accomplishments which do not fall into the structure of our more traditional honors.
Steve is only the 21st person to receive this award.
Shlisky is a 40-year veteran of Bay Area television production, mostly at KTVU. Before his retirement in 2019, he served as that station's go-to programming editor. Among the commercials, long-form news features and special projects, Steve edited the Chinese New Year Parade 25-years in a row.
Steve served as the President of this Chapter from 2016-2020. He chaired the Education Committee from 2010 to 2016, granting tens of thousands of dollars in scholarships. He has served this chapter as a National Trustee with the Academy, and is a 14-time Emmy®  Award recipient. Steve  is a Silver Circle member from the Class of 2014.
Since leaving the presidency, Steve has continued working tirelessly for this chapter, developing programs and activities. They range from zoom presentations, to webinars, tutorials and podcasts, all for the benefit of our professional members.
Steve Shlisky has made his most lasting contributions, not in edit rooms, but inside classrooms. Since 1999 Steve has lectured at San Francisco State University  and at also Laney College where, since 2011, he has co-chaired the Media Communication department.
"This is important work. It is an inclusive and diverse culture. We see students from all kinds of places and phases of life. It is important to reach everyone and to be accessible. And to make our business accessible to them."