Congratulations: Buchanan, Sheldon and Tamapalis High Schools, SF / NorCal Chapter National Student Production Award Winners!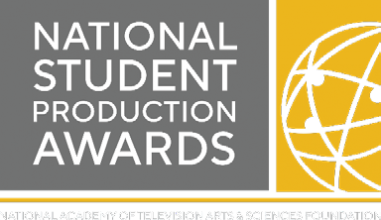 New York, NY – Friday, November 1, 2019 – Winners of the 4th Annual National Student Production Awards were announced at The School of Media Studies at The New School in New York City today, hosted by ESPN Sports television personality, Gary Striewski, host "SportsCenter Snapchat." The Foundation of The National Academy of Television Arts & Sciences (NATAS) presents this competition annually which includes 24 programming and craft categories honoring student productions from across the country. The event was live streamed on the Academy's social media channels and website. A full list of winners can be found here: www.theemmys.tv/nspa 
"The future of our industry is being passed to the next generation," said Doug Mummert, Chairman, NATAS Foundation. "The National Academy takes great pride in honoring these amazing students and congratulates all of today's nominees for their body of work as witnessed by these outstanding entries." 
Over 200 student productions were culled from the 19 regional chapters of The National Academy of Television Arts & Sciences and selected by industry professionals and university professors to advance to the national competition. 
"The Foundation is pleased to highlight these aspiring television journalists and the outstanding work being done by them across the country," said, Danielle Mannion, NATAS Foundation Education Chair. "The creativity, dedication to craft and passion exhibited by this year's entries continues to inspire us as to the future of our great industry. In addition to thanking our hosts, The New School and its talented Media Studies students for their assistance in producing today's program, we would also like to thank the many judges who participated in reviewing these outstanding productions." 
In addition to our host, Gary Striewski of "SportsCenter Snapchat," nominees were announced by Valerie Bertinelli, host of "Valerie's Home Cooking," Food Network; David Muir, anchor, "ABC News Tonight;" Bill Nye, "The Science Guy," PBS; Rachael Ray, "The Rachael Ray Show," syndicated; Adrienne Houghton, Jeannie Mai, Tamera Mowry-Housley, and Loni Love, from "The Real," syndicated; Hannah Storm, "ESPN's SportsCenter;" and Alie Ward, "The Henry Ford's Innovation Nation," CBS. 
Recipients were announced beginning at 2 p.m. EDT, 11 a.m. PDT via a live web stream produced by NATAS SVP, Production, Steve Ulrich; Director, Production, Lisa Armstrong; Education Chair, Danielle Mannion; Cherie Housley, Administrator, Student Production Awards and the students of The School of Media Studies at The New School. The NATAS Foundation would like to thank and acknowledge The New School for its facility and participation in making these awards possible. 
NEWSCAST
The Voyage, Christopher Columbus High School/CCNN Live (Suncoast Chapter) Joseph Fernandez, David A Perez, Alexander Someillan Christina Insua and Omar Delgado, Advisors 
GENERAL ASSIGNMENT – SERIOUS NEWS
Hot Glass Alley, Fort Mill High School/The Buzz TV (Southeast Chapter)
Cassidy Burns
Karin McKemey, Advisor 
GENERAL ASSIGNMENT – LIGHT NEWS
Petit Jean, Har-Ber High School (Mid-America Chapter)
Carson Branscum, John Arellano
Travis Sherman, Advisor 
---
ARTS AND ENTERTAINMENT/CULTURAL AFFAIRS
Break It Down, Tamapalis High School, Academy of Integrated Humanities and New Media (San Francisco/Northern California Chapter)
Ember Truppelli, Lillian Penther, Trevor Canton, Emilie Hofele
Sharilyn Scharf, Advisor
MUSIC VIDEO
More Than I Said, Ballard High School (Northwest Chapter)
Grace Stromatt, Freeman Marshall, Elliot Russell
Matt Lawrence, Advisor 
SHORT FORM – FICTION
I Got Next, Crown Point High School (Chicago/Midwest Chapter)
Nick Morgan
Brent Barber and Chris Gloff, Advisors 
SHORT FORM – NON-FICTION
Browning Rising Voices, MAPS Media Institute (Northwest Chapter) Ali Archambault, Hailee Hendersen, Weslee Pree
Clare Ann Harff, Advisor 
LONG FORM – FICTION
User Blocked, Northwestern High School (Ohio Valley Chapter)
Devin Chen, Justin Adamson, Cody Miller Lisa Boggess, Advisor
LONG FORM – NON-FICTION
Stuffed, Royce City High School (Lone Star Chapter)
Shelby Doroshow 
SPORTS – FEATURE/SEGMENT
Coach DQ, Christopher Columbus High School/CCNN Live (Suncoast Chapter) Christopher Gomez, Alexander Someillan, Lukas Guerra, Kevin Reyes, Marcus Callegari, Benjamin Cure, Steven Lee, Joseph Gonzalez,
Joseph Fernandez, David A Perez
Christina Insua and Omar Delgado, Advisors 
SPORTS – LIVE EVENT
Westminster vs. GAC GHSA Playoffs, The Westminster Schools (Southeast Chapter)
Turner Cravens, Collier Ballard, William Turton
Daniel Searl, Advisor 
SPORTS PROGRAM
Red Devil Postgame, Germantown High School/GHS-TV (Nashville/ Mid-South Chapter)
Chelbi Talley, Reyna Katko, Erin Parker, Mikaila Smith, Kharice Hawkins, Jalen Davis
Allison Long, Advisor
PUBLIC SERVICE (PSAs)
Dear America: A film by Generation Z, Montverde Academy (Suncoast Chapter)
Elizabeth Buzbee, Molly Smith, Sage Croft, Allison Fitzgerald
Jim Seaney, Advisor 
PUBLIC AFFAIRS/COMMUNITY SERVICE
Labyrinth, Saint Edward High School (Lower Great Lakes Chapter)
Finnbar Norman, Malen Cuturic, Andre Holland, Altan Dinchman, K. Ziven Kujda, Colin Donovan, Christopher Kidwell, Josiah Knight, Andrew McLaughlin, Sam Marshall, Brendan Ours, Paul Schweibinz, Daniel Semancik, Kyle Sminchak, John Swansiner, Matthew Hoffman, James Welch, JP McMaken
Nicholas Kuhar, Advisor 
MAGAZINE PROGRAM
The Buzz TV- Episode 8, Fort Mill High School/The Buzz TV (Southeast Chapter)
Ethan Miller, Courtney Smith
Karin McKemey, Advisor
COMMERCIAL
Senior Pics, Richland Northeast High School (Southeast Chapter)
Caleb Daniels, Wade Fletcher
Andrew Chambers, Advisor 
ANIMATION/GRAPHICS/SPECIAL EFFECTS
UFO, Sheldon High School (San Francisco/Northern California Chapter) Makena Bajar, Chloe Leanne Agustin, Sunshine Hurtienne, Kristin Schueller, Joseph Schwall, Nicholas Chambers, Juanito Garcia, Austin Tang, Tyler Wooten, David Zekarias
Shawn Sullivan, Advisor 
AUDIO/SOUND
Doubts, Ballard High School (Northwest Chapter)
Ethan Hawthorne-Dallas
Matt Lawrence, Advisor 
DIRECTOR
Charli Shapiro, Roswell High School (Southeast Chapter)
Charli Shapiro
Lisa Funderburk, Advisor
EDITOR
Ellipsis, Doral Academy Preparatory/FirebirdTV (Suncoast Chapter)
Dylan Vento
William Viruet and Elayne Diaz, Advisors 
PHOTOGRAPHER
Discoveries: Awakening, Naperville North High School (Chicago / Midwest Chapter)
Noah Semeria
Mitch Martin, Advisor 
TALENT
Andrew Kurland Talent Composite, Glenbrook South High School (Chicago / Midwest Chapter)
Andrew Kurland
Julie Benca, Advisor
AND
Rodney McKinner Compilation, Germantown High School/GHS-TV (Nashville / Mid-South Chapter)
Rodney McKinner
Allison Long, Advisor
VIDEO ESSAY
More Than a Business, Buchanan High School (San Francisco/ Northern California Chapter)
David Angulo
Daniel Pearce, Advisor 
WRITING
Molly Smith – Writing Reel, Montverde Academy (Suncoast Chapter)
Molly Smith
Jim Seaney, Advisor
---
Back to "Off Camera" INDEX page…