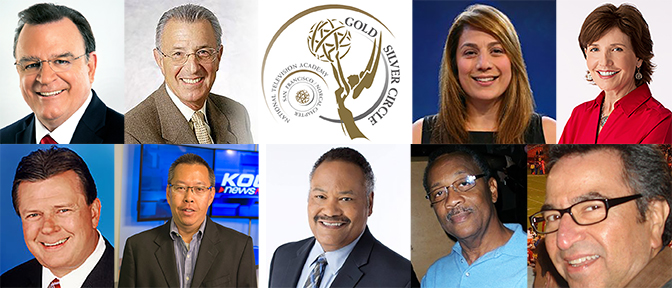 Gold & Silver Circle Class of 2021
Induction Ceremony
Saturday, November 13, 2021
7PM  YouTube Emmy SF TV
FREE EVENT please click to RSVP
Block out Saturday November 13th at 6:30 PM and join our Zoom Reception to induct the Gold & Silver Circle Class of 2021. Then at 7pm switch to YouTube for the induction ceremony.
Nine outstanding TV professionals will be inducted, honoring decades of contributions to the television industry. The Circles are an honor society. This year again, because of COVID-19, the event is being held virtually so no lunch or dinner. But set yourself up at home drinks, food, good friends and family because the evening promises to be fun-filled. Seven new members are joining the Silver Circle, recognizing 25+ years of service to our industry. Two individuals are being inducted into the Gold Circle, saluting 50+ years in TV. Presenters are announced!
We told you about the inductees last month.  Each inductee has picked a presenter to give a little background on the inductees and introduce their video history.  Let's meet the presenters:
Gold Circle Class of 2021 
Gold Circle Inductee: Joe Moore, Anchor, KHON 2, Honolulu, Hawaii 
Presenter: Pamela Young, KHON 2, Honolulu, Hawaii, Journalist/Producer (SC 2004)
A veteran broadcast journalist, Pamela Young is an experienced television producer at KHON-TV in Honolulu, Hawaii. She was born and raised on the islands, coming to the mainland to attain a higher education, eventually graduating from San Francisco State University with a Master's Degree in Creative Arts. That journey started in 1973. Young then made the Bay Area her home when she was hired at San Francisco station KPIX as a reporter in 1975. She then took a job at public television station KQED for a four-year stint. Then it was time to return to her roots, Hawaii. She's spent years in TV, both in front of  and behind the camera at KHON, KGMB and KITV. She has received numerous awards including  12 Emmy®Awards and a Peabody. She's active in a variety of community service programs and also serves as NATAS' Vice President of Hawaii. Young was inducted into the Silver Circle in 2004 and presented with the Governors' Citation in 2019 and the Governors' Service Medallion in 2013. She's currently a NATAS National Trustee.
Gold Circle Inductee: Barry Tompkins, Sportscaster
Presenter: Ron Magers, WLS Chicago, Retired Anchor, formerly KPIX, San Francisco
The San Francisco market knew Ron Magers as an anchor back in the early days from 1968 – 1974. He started his broadcasting career as a high school student working part-time as a radio show host. Magers moved into television in 1965 at KEZI-TV in Eugene, Oregon as a reporter. He then took a job producing and anchoring the 11 PM News at KGW-TV in Portland. From there, it was on to KPIX in San Francisco where he was hired as a news anchor.  Magers made national headlines in 1997 when he and his co-anchor resigned as co-anchors of the 5, 6, and 10 PM newscasts of WMAQ-TV in Chicago after the station hired Jerry Springer as a commentor. The protest decision did not keep Magers out of the anchor chair for long. He joined Chicago Station WLS in 1998 as the 5 PM News Anchor. In 2002, he moved over to  the 10 PM news team. After an illustrious career in TV news, Magers retired in 2016.
Silver Circle Class of 2021
Silver Circle Inductee: Stephanie Adrouny, KNTV NBC Bay Area, Vice President News
Presenter:  Kevin Keeshan, NBCUniversal Owned Television Stations, Senior Vice President of News Content
 Kevin Keeshan is Senior Vice President of News Content and Standards for the NBCUniversal Owned Television stations. He also serves as Ombudsman for NBC News in New York. His TV experience is vast and diverse. Before taking the job at NBC, Keeshan lived in the Bay Area from 2001 until 2012. He was Vice-President/News Director at San Francisco Station KGO-TV ABC 7. In his current position at NBC, Keeshan works closely with local stations, bringing more than 35-years of television experience with him. His job is to ensure that the company's high standards for news gathering are consistent across the country. Additionally, he works closely with stations on their investigative and consumer reporting efforts. And it's a good match for him. He knows the field well. Earlier in his career, he worked as a consumer/investigative reporter. He was also a TV news anchor.
Silver Circle Inductee: Laura Anthony, KGO ABC 7, San Francisco, Reporter
Presenter: Randy Davis, KGO ABC 7, San Francisco, Videojournalist/Editor (SC2016)
 The news business is in his blood. Randy Davis grew up around the industry since his father, Steve Davis, was a reporter and anchor in San Francisco for many years. Davis is a Videojournalist and editor, having worked at KGO-TV since 1982. That's almost forty years at the station. Before that, Davis was a freelance film/video photographer working for KGO and KTVU. Then he was hired full time at KGO and has fine-tuned his craft and is responsible for day-to-day news gathering, running live trucks and uploading footage and stories under deadline. His work has been recognized with several Emmy ® Awards and he was part of the team receiving a Peabody Award in 1989. Davis regularly mentors young reporters and photographers, has taught a lighting seminar at UC Berkeley and volunteers to produce graduation videos for schools – along with coaching little league and soccer teams in Walnut Creek.
Silver Circle Inductee: Michael Finney, KGO ABC 7, San Francisco, Consumer Reporter
Presenter:  Dan Ashley, KGO ABC 7, San Francisco, News Anchor

(SC 2015)
A familiar face on television in the Bay Area, KGO ABC 7 News Anchor Dan Ashley  holds a big record at the station. He's the longest tenured main male news anchor in the history of KGO. He started anchoring the 6 and 11 PM Newscasts in 1996 and remains a constant today. His first job at the ABC station was in 1995 as the weekday 5PM news anchor and investigative reporter. Then he was promoted to 6 and 11. Ashley graduated from the University of North Carolina in 1985 with degrees in English and Speech Communication. He's conducted numerous notable interviews including ones with President George W. Bush, General Colin Powell and Tom Brokaw. Ashley maintains that a reporter's life is a joy and that he's always been grateful to have found a profession that suits him – and one that he cares about so deeply.
Silver Circle Inductee:  Stanton Tang, KOLO 8, Reno, News Director
Presenter: Denise Wong, KOLO 8, Reno, News Anchor
For more than five years, Denise Wong has been holding down the evening anchor desk at Reno station KOLO-TV. Wong has an MS Degree from Boston University and a BA Degree from the University of California, Los Angeles in Community Studies and Psychology. Her television career has taken her across the country from being a reporter/producer at WXTV in Tallahassee, Florida to Las Vegas in 2013 as a fill-in anchor to CBS Sacramento – KOVR 13 – and then on to Reno as main anchor. Wong loves her job and when not reporting and delivering the news, her passions are pretty simple. She enjoys being a "mommy, wife, Nacho lover."
Silver Circle Inductee: Eric Thomas, KGO ABC 7, San Francisco Reporter (retired)
Presenter: Lyanne Melendez, KGO ABC 7, San Francisco, General Assignment Reporter

(SC2016)
Lyanne Melendez makes a difference in her community via her storytelling. She's been with KGO since 1994 and has received numerous honors and awards. In 1999, Melendez received an Emmy® Award for a story entitled Nicholas' Gift of Life, a report about a Bay Area boy whose organs were donated to seven Italian recipients. In 1992, she was named Latina Media Person of the Year from New York University. Before KGO, she worked at CNN-SPANISH in New York where she was a senior correspondent and fill-in anchor. She's also worked at television stations in San Juan, Puerto Rico. Melendez has a BA Degree in Journalism from the University of Alabama and an MA in Mass Communications from the University of Wisconsin.
Silver Circle Inductee: Adrian Woodfork, KCRA Ch. 3, Sacramento, Photographer/Reporter/Program Host (retired)
Presenter: Joyce Mitchell, 4 U Productions, TV Rebels With A Cause, Owner,/Producer

(SC 2010)
Passion is what drives Joyce Mitchell. Couple that with more than 40 years of experience in TV and she strives to produce memorable programs that help make the world a better place. She has seven regional Emmy® Awards for her documentary work. In 2017, Mitchell received the Governors' Award, a lifetime Achievement Emmy® statuette, the highest award a chapter can bestow.  She currently serves as NATAS Sacramento Vice President and a National Trustee. She's also an HIV/AIDS activist and President of Capital City AIDS Fund (CCAF), a northern California non-profit serving people infected and affected by HIV/AIDS. Mitchell has a BA in Government Journalism from Sacramento State University and an MA in Communication Studies.
Silver Circle Inductee: Frank Zamacona, Zamacona Productions, Producer/Director
Presenter: TBA
Frank is prepping to direct an opera in Chicago.  He has not had a chance to select his presenter yet.  Join the party and be suprised who Frank picks to introduce him.
SCHOLARSHIP RECIPIENTS

The ceremony will also honor our five Collegiate Scholarship Winners.  They will each receive a $3,000 check from the TV Academy Fund on November 6th.  You can watch the November 6th, 10am presentation on our YouTube channel  Emmy SF TV.
Pictured from left to right: Sara Lam, California State University, Long Beach; Enrique Landeros, Laney College, Oakland; Lea Heimgartner and Dallin Mello, University of California, Berkeley–Graduate School of Journalism; Zoe Rosenblum, Berkeley City College.
MASTER OF CEREMONIES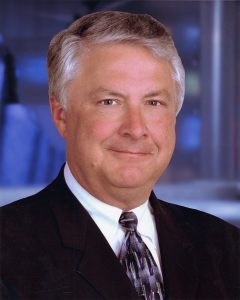 Our Master of Ceremonies for the evening will be Tom Vacar, Silver Circle Class of 2003.  Tom started his career in 1977 in Cleveland on WJW-TV on "PM Magazine". In 1979 he went to KGO, then KCBS, KTTV and  is presently at KTVU. As a consumer reporter he has helped recall more than a million Dodge vans, helped brought passage of proposition 103, is the founder of the Great American Toy Test which is in its 24th year. He has attained more than 40 major journalism awards. His passion for the business is quite evident. He hasn't missed a day of work since 1981.
Please RSVP to attend the FREE event