KICU-TV first signed on the air on October 9, 1967, under the call sign KGSC-TV. It is currently the longest continuously operating commercial UHF television station in our market.
KGSC Channel 36 was notable for its all-night movie presentations, which were co-hosted during the early 1970s by Andy Moore as prospector Old Sourdough and Gary Ferry as his companion Chief Wachikanoka. The two characters often made jokes about the movies being showcased, as well as engaged in comedic banter with guests promoting local businesses. Moore left KGSC in 1974. Overnight film telecasts were branded as Movies 'til Dawn following Moore's departure.
The station promoted itself as "The Perfect 36" during the 1970s, employing busty San Francisco entertainer Carol Doda. Her breathy voice could be heard saying, "KGSC, The Perfect 36." Doda would also perform the station's editorial segments, which like the IDs were laced with double entendres.
In early 1981, the station was sold to Ralph Wilson Enterprises, operated by businessman Ralph C. Wilson, owner of the Buffalo Bills NFL franchise. The station subsequently changed its call letters to KICU-TV on March 27 of that year.
Producers Brian Adams and Jaqueline Keywood began debating topics of the day in two-minute segments called Pro/Con. Public Service Director Roy Avila discussed local issues with community leaders on Left, Right and Center, a show that Avila would host for more than thirty years.
Later in 1981 the UHF station stepped up to the plate with a 30-minute evening newscast. The 7:30 News was anchored by Jan Hutchins and Ysabel Duron, with sportscaster John Schrader and weatherman Steve Dini. News Director Doug McKnight was joined by reporters Bill Buckmaster, Melanie Morgan and Tony Russomanno.
In 1984 KICU-TV moved from the sleepy residence-sized building on Kerley Drive in San Jose to a new two-studio building on Schallenberger Road, near the The San Jose Mercury News. Later that year The 7:30 News was expanded to the 60-minute News at Ten, and a 30-minute experimental daytime news show was added. The News at Noon, anchored by Buckmaster, was followed by the locally produced Martha's Digest hosted by Martha Tonsing.
Throughout the '80's, KICU aired major league sports games beginning with the Oakland A's and the Golden State Warriors. Years later the station would begin airing San Jose Sharks games.
The Bay Area was shaken by the Loma Prieta earthquake on October 17, 1989, but the KICU news team was there to report from hard-hit Bay Area locations including Los Gatos and even Santa Cruz.
In 1990, President William Hirshey and three members of the station's management staff – General Manager Jim Evers, Vice President of Operations Bill Beeman, and Vice President and General Sales Manager John DuBois – acquired minority ownership stakes in the station, with Ralph Wilson Enterprises retaining majority control.
KICU's presence in the community remained strong after the sale. The station enjoyed continuing partnerships with organizations such as the Boy Scouts of America, Rotary Club of San Jose, Boys and Girls Club, and many more. Adams hosted the annual American Cancer Society's Courageous Kids Day at the Great America Theme Park.
In 1991 the station was re-branded Action 36. On-air promotion was ramped up on all fronts during this period. Dini began hosting TV POWW segments that allowed viewers to play a voice activated video game and win prizes. Recently hired Promotion Director David Wolf added movie contests, prize drawings and a telephone info-line system where viewers could call in to win vacations. Adams began hosting Dialing for Dollars segments that promoted viewer loyalty during the afternoon movie by giving out cash awards.
High School Sports Focus premiered in the fall of 1991, hosted by then Sports Director Robert Braunstein. It was the first show in the market to celebrate and report on high school athletics, including personal profiles of athletes, and gave KICU a unique presence at Bay Area high schools.
In 1995, the station began producing the technology-focused business news program Silicon Valley Business This Week, hosted by Jim Goldman and produced by McKnight. That same year, Silicon Valley Careers began as 30-minute employee recruitment special hosted by Terry Lowry. Soon Keith Sanders took over as Executive Producer of the high-tech infomercial that aired throughout the .com boom.
In 1998 KICU-TV moved to a more modest facility on nearby Commerce Drive. KICU's newest home had once been a Dole Pineapple testing lab but was completely remodeled into a modern broadcast facility.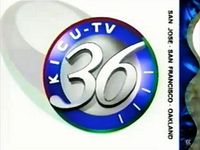 On August 28, 1999, Ralph Wilson Enterprises announced that it would sell KICU-TV. Station management cited the FCC's August 5 decision to relax its ownership rules to allow a single broadcasting company to own two television stations in the same market (on the condition that one of the stations not be among the four highest-rated).
On November 29, 1999, Wilson sold the station to Cox Broadcasting, a subsidiary of Cox Enterprises. The resulting pairing of KICU with KTVU created the Bay Area's first television station duopoly. The operations of KICU were moved from that station's studio facilities in San Jose to KTVU's facility in Oakland.
In 2014, Fox Television Stations announced that it would acquire KTVU and KICU from the Cox Media Group, in exchange for trading two Fox owned-and-operated stations, WFXT in Boston and WHBQ-TV in Memphis. The trade was completed on October 8, 2014. On April 25, 2016, KICU adopted the "KTVU Plus" brand, replacing the "TV 36" branding that had been in use since September 2007.