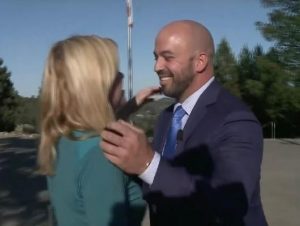 The CBS San Francisco affiliate, KPIX, helped coordinate a surprise on-camera proposal for reporter Emily Turner. Producers worked with Turner's boyfriend, Daniel Bowen, for weeks to find the perfect story to pop the question.
Just after her 5pm live shot yesterday, Bowen walked up wearing a suit.
"What? What are you doing here?" Turner asked him. He took a knee and then asked her to marry him. She said yes and it was all captured on tape. The video has been posted to the station's Facebook page. It has received more than 35,000 views.
Turner told the 6pm anchors Allen Martin and Veronica De La Cruz that she was completely surprised.
You can see the entire proposal here.