By Kevin Wing
Editor, Off Camera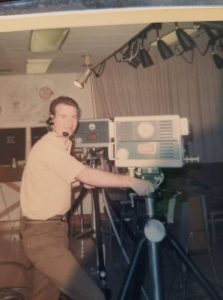 Michael Lydon, a former Bay Area broadcaster who worked at KTVU in Oakland for nearly 40 years, has died. He was 72 when he passed away Sept. 18 in Oakland.
Lydon studied broadcasting at St. Mary's College and landed a job at KTVU in 1968 as a film shipping clerk. When he retired nearly 40 years later, in 2007, Lydon was the program services manager for the station.
His death has saddened friends and former KTVU colleagues. "Mike will always be remembered for a continuous smile and willingness to offer help to anyone in need," says Don Thompson, KTVU's engineering operations manager. "I worked with Mike for over 25 years at KTVU and can't remember a single time he was upset."
"Mike lived his life with distinction," says Michael Krajac, a longtime KTVU producer/editor who worked for Lydon for many years. "He served his country in the Navy, his community of Piedmont Avenue in Oakland and his employer and co-workers at KTVU."
"Mike spent parts of five decades at KTVU," says Steve Shlisky, a longtime editor at KTVU and who is president of the San Francisco/Northern California Chapter of The National Academy of Television Arts & Sciences. "I was fortunate to spend 27 years working alongside him. At first, Mike mentored me in not only broadcast protocol, but in the many lessons needed to work closely and socialize with fellow employees. Mike has left me with a hole in my heart, but with certain wisdoms to partially fill that gap. I am a richer human to have known him, with a greater regard for others. Mike, I miss you now and will miss you for a long time to come."
"He was such a wonderful guy," says Caroline Klas Chang, another friend and longtime KTVU colleague. "Mike had a wicked sense of humor, and he was a prankster. I will miss his jokes, and his stories, and his friendship."
During his stint in the Navy, Lydon served on the USS Oriskany, where he operated the
broadcasting department on the ship. After four years with the Navy, Lydon returned to KTVU, in 1972, where he worked in the film department.
Through the years, Lydon helped to develop the station's program inventory tracking system, which kept track of program usage. Besides his dedication and loyalty to KTVU,
Lydon was equally as devoted to the Oakland neighborhood that he had called home since his childhood years, dating back to 1949. He was committed to the Piedmont Avenue neighborhood, and to the Piedmont Avenue Merchant Association. Since the late 1970s, Lydon had literally swept Piedmont Avenue every week, keeping it clean. He managed the association's Clean Sweep program. Piedmont Avenue is swept every morning, rain or shine. It is simply one of the cleanest streets in the Bay Area.
"He loved KTVU," Klas Chang says. "And, he was especially attached to his neighborhood, Piedmont Avenue in Oakland." She says Lydon was also the one responsible for replacing the clock on the Key System Building Tower. She said he had also been cleaning Piedmont Avenue, between Pleasant Valley Road and MacArthur Boulevard, every week since 1979.
In addition to his friends, Lydon is survived by his spouse, Philip Laing.