Monthly Tidbits From Our Chapter's Markets 
by Joyce Mitchell
Chapter Governor, Sacramento
TV is the megaphone and northern California stations have used the airwaves to keep viewers informed – and help out. Some stations are sending crews to cover the hurricanes, reporting from Florida, Texas, Puerto Rico, Virgin Islands and other impacted regions.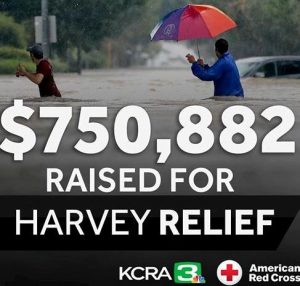 They're also going a step beyond. Sacramento's KOVR, in addition to keeping viewers informed, held a Hurricane Harvey Relief fundraiser produced in coordination with the Red Cross. It raised thousands of dollars for Texans.
Sacramento NBC affiliate KCRA raised a whopping $750,882 during a live Hurricane Harvey telethon.  The station gives a special shout-out to Sutter Health for its $250,000 donation.
Fresno also provided hurricane relief. NATAS Governor Kim Stephens, morning anchor at KMPH, went live all day at Sierra Vista Mall in Clovis for Sinclair Cares. It was a fundraising effort in coordination with the Salvation Army. The community came together under the banner – The Central Valley Stands Strong with Texas. "All of the stations here in Fresno did a big Hurricane Harvey fundraising push," said Stephens. "We've also been super busy covering the fires around us. Every newsroom smells like a campfire as our crews return from spending eight hours in the field."
Guam KUAM News is connecting with viewers, surveying them and asking if they support the military presence on their island. The survey follows ongoing tensions with North Korea's missile launches. Meanwhile, the station reports that Guam leaders maintain there's no threat to the territory. People are being encouraged to go on with daily routines.
Eureka ABC affiliate KAEF is one of four local stations recently sold to Sinclair Broadcast Group. The move came less than 24-hours after the FCC made a decision to allow broadcast TV companies to own more stations. The FCC's move and subsequent acquisitions came in April. End of July, Congressman Jared Huffman (D-CA) introduced legislation that would protect local television markets from corporate consolidation. "Preventing monopolies in local media and turning back the tide of corporate consolidation has never been more vital than it is today," said Rep. Huffman. In Eureka, the Sinclair buy includes Fox KBVU, CW KECA-LD, and Univision KEUV-LP. Time will tell.
San Francisco – Second Edition is now available! KGO Reporter Wayne Freedman calls himself a television brat. Freedman is a NATAS Governor and recipient of 51 Emmy Awards. He's written a book edited by TV news writing guru Mervin Block. NATAS 2017 Scholarship Recipient Courtney Wagner is getting storytelling tips reading Freedman's book. "I'm letting the wisdom and tips of Wayne Freedman guide me as I write the treatment for my senior film," said Wagner. Wagner is studying TV at Sacramento State University. She'll be receiving her scholarship at the upcoming  Gold and Silver Circle ceremony in San Francisco on Saturday, October 14th.
2017 Gold & Silver Circle Induction Luncheon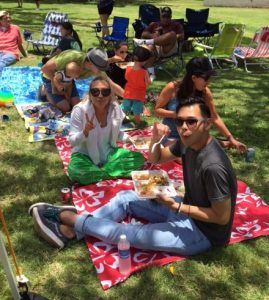 Honolulu KHON-TV is keeping with its belief that happy employees are more productive workers. About three years ago, the KHON leadership team decided to hold a summer picnic. The company picnic is yet another way the station's management is thanking employees for their hard work. It also gives employees a chance to mingle. Yet another reason to live and work in Honolulu!
NATAS welcomes contributions to the Regional Roundup from all markets.
To be included, please contact Joyce Mitchell at joycem2@surewest.net