By Kevin Wing
Editor, Off Camera
Wow!! One of the Bay Area's most well-known television meteorologists is bringing his love of weather to kids in the form of children's weather books.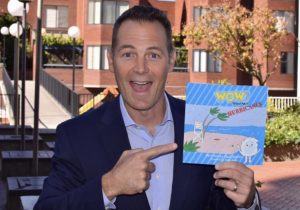 Paul Deanno, chief meteorologist at KPIX 5 in San Francisco, recently published Wow! Weather! Hurricanes!, the latest in a series of children's weather books. Deanno's first book, Wow! Weather!, in March of this year.
Deanno, who joined KPIX in 2012, said his colorful and informative books are geared toward children three to nine years of age. His latest book, which published in late August, is already an Amazon best seller.
"Both are the No. 1 children's weather books," Deanno told Off Camera.
"I've wanted to do this for the last 15 years," Deanno added. "But, family and work have always been No. 1 and 2 priorities. But now, writing the books and publishing them, how awesome it is to have that dream and see it become a reality. You just have to go for your dreams."
Deanno makes it fun when he talks about the weather to kids.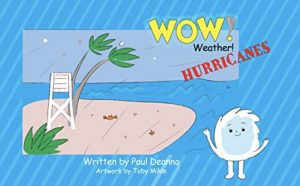 "If you want to teach science to a young child, you have to bring science down to their level," he said. "And, you have to make it fun. But, as much as I want the books to be scientifically accurate, you have to break it down for a young child to be able to understand it all."
How does Deanno do that?
For example, he explains in his books about cumulus clouds, and the fact that they can weigh as much as two million pounds.
But, how will a child understand that?
"What does two million pounds mean to a child? How much does an elephant weigh? An elephant weighs 20,000 pounds," Deanno explained. "So, you could say that if you had 100 elephants, together they would weigh two million pounds. Now you have the science in there, and that has a much likely way for a child to absorb the information."
Besides Deanno's ability to share his weather knowledge with children, he also enjoys going into the classrooms to talk with them about anything, from how hurricanes are formed to microclimates. He's been visiting schools for 20 years.
"If they start asking questions about what I'm talking about, then they are already getting it," Deanno said.
In the latest book, Deanno writes about the phenomenon of a storm surge resulting from a hurricane when the ocean can rise because the heavy winds from a hurricane are pushing the ocean and making it rise, and how a storm surge could be as high as 20 feet. But, how does a kid really understand that?
"I tell them that if a hurricane storm surge is as high as 20 feet, I tell them to think about how tall a giraffe is," he said. "They really get it."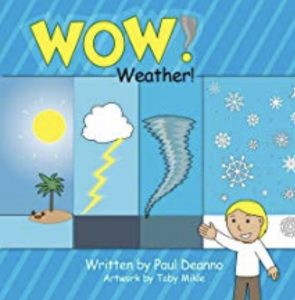 Deanno has begun writing his next book, Wow! Weather! Snow!
"I'm hoping to have that book published before winter starts," he said.
As part of the book series, Deanno said he is also going to write books about weather in California, and how microclimates exist here.
"Mother Nature is in charge, and we can capture the wonder of the weather if we just sit back and watch what she does and be in awe of it all," Deanno said.
Deanno said he loves talking to children about the weather, and doing all he can to make it fun and interesting for them.
"I love seeing how their little minds work."
WATCH: Tune in to Paul Deanno's weather reports on KPIX's 5, 6 and 11 p.m. newscasts.