NORTHERN CALIFORNIA NOMINEES
OF THE 2019 NATIONAL STUDENT PRODUCTION AWARDS
75% (15 of 20) of the Northern California Student Production Awards of Excellence are nominated in the National contest. The 2019 Student Production Awards will be hosted by the School of Media Studies at The New School, with Media Studies students assisting in producing the broadcast with the NATAS staff. The awards presentation will be live-streamed from the campus of The New School on Friday, November 1st at 2 pm EDT.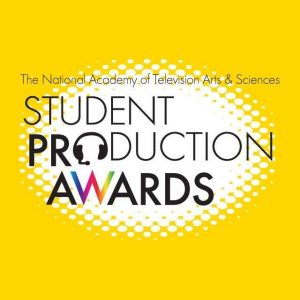 SF/NorCal National Student Production Awards – Nominees (2019)
Newscast
BNN 2019, Buchanan High School (San Francisco/Northern California Chapter)
Courtney Compton, Mitchel Mazzeo, Savannah Macias, Connor McInerney, Presley Vu, Kaitlyn Gilman, Mikayla Reyna, Ethan DeLaPena, Zac Cline, Bryce Hoffhous, Kendall Veatch
Daniel Pearce, Advisor
General Assignment – Light News
Bilingual Family , Whitney High School/WCTV19 (San Francisco/Northern California Chapter)
Hailey Best, Autumn Abercrombie
Ben Barnholdt, Advisor
Arts and Entertainment/Cultural Affairs
Break It Down, Tamapalis High School, Academy of Integrated Humanities and New Media (San Francisco/Northern California Chapter)
Ember Truppelli, Lillian Penther, Trevor Canton, Emilie Hofele
Sharilyn Scharf, Advisor
Short Form – Fiction
Stuck, Franklin High School (San Francisco/Northern California Chapter)
Andres Garcia
Brad Clark, Advisor
Short Form – Non-Fiction
A Day in My Parents Shoes, Sunnyside High School (San Francisco/Northern California Chapter)
Janet Saldana
Katie McQuone, Advisor
Long Form – Non-Fiction
The Last Straw, Ruth Asawa San Francisco School of the Arts (San Francisco/Northern California Chapter)
Julian Jordan, Kyle Trefny, Monica Monor, Erica Jordan
Scott Eberhardt, Advisor
Sports – Feature/Segment
The Weighting Game, Wai'anae High School/Searider Productions (San Francisco/Northern California Chapter)
Brayzhelle Williams-Quitog, Jillion Jeremiah, Enelyn Lau, Lexton Butay-Joseph
John Allen III, Advisor
Public Affairs/Community Service
Your Rights End, Tamapalis High School, Academy of Integrated Humanities and New Media (San Francisco/Northern California Chapter)
Ava Finn, Celeste Moore, Francesca Fee, Rose Paradise
Sharilyn Scharf, Advisor
Magazine Program
Wai'anae High School's Broadcast News Show, Wai'anae High School/Searider Productions (San Francisco/Northern California Chapter)
Jayden Kepoo-Caspino, Nicole Tagalicud, Amee Neves, Lexton Butay-Joseph, John Allen IV
John Allen III, Advisor
Commercial
WHS Promo Showcase , Whitney High School/WCTV19 (San Francisco/Northern California Chapter)
Evan Risucci
Ben Barnholdt, Advisor
Animation/Graphics/Special Effects
UFO, Sheldon High School (San Francisco/Northern California Chapter)
Makena Bajar, Chloe Leanne Agustin, Sunshine Hurtienne, Kristin Schueller, Joseph Schwall, Nicholas Chambers, Juanito Garcia, Austin Tang, Tyler Wooten, David Zekarias
Shawn Sullivan, Advisor
Audio/Sound
Love, Buchanan High School (San Francisco/Northern California Chapter)
Eric Ahumada
Daniel Pearce, Advisor
Photographer
Risucci Cinematography Reel, Whitney High School/WCTV19 (San Francisco/Northern California Chapter)
Evan Risucci
Ben Barnholdt, Advisor
Video Essay
More Than a Business, Buchanan High School (San Francisco/Northern California Chapter)
David Angulo
Daniel Pearce, Advisor
Writing
Iso's Personal Statement, Tamapalis High School, Academy of Integrated Humanities and New Media (San Francisco/Northern California Chapter)
Iso Schriever
Sharilyn Scharf, Advisor
Friday, November 1st at 2pm EDT, the livestream can be viewed at the following locations:
NATAS/National Student Production Awards: https://www.facebook.com/NATASSPA
NATAS/Student Awards Twitter: https://twitter.com/NATASSPA NATAS Facebook: https://www.facebook.com/TheEmmys