By Larena Baldazo
NATAS Chapter Marketing Chair 
On March 13, my alarm went off at 6 am, I took a shower, made some coffee and woke my kids up for school. After dropping them off, my commute to Oakland began and lasted for about an hour and a half. I headed to the 8th floor of the tower at Laney College and greeted students and staff members, my heels clicking along the way.
Usually, my day is filled with meetings around the college campus, updating content on the college's website, attending campus events and sharing highlights to social media.
While each day is truly different, my priorities mainly consist of the following:
Provide support to the college president
Lead one-on-one WordPress trainings
Create and disseminate weekly newsletter
Write news stories
Lead catalog and class schedule projects
Launch and manage both print and digital marketing campaigns
Record audio for radio ads
Work with faculty members and the Office of Instruction to promote specific classes and programs
Maintain overall communication with students, faculty and staff members
Now that the campus is closed due to COVID-19, I am home with two seventh graders and a kindergartener, as my husband has continued to work outside of the home.
The kids' days are filled with as many Zoom meetings as mine and I have taken on the role of a teacher. A job I was totally not cut out for.
I have personally vowed to send my kids' teachers gift baskets once this is all over!
"Once this is all over," a phrase I have found myself saying less and less as social distancing continues. The truth is, as a busy-body and social person, I am dying to get back to my regular routine.
My routine now consists of, getting to wake up at 7:30 a.m., (now that I have no commute) logging my kindergartener into class, assisting with any tech needs from my son and little sister, and checking my work emails in between.
Once my 6-year-old's Zoom session is over, I log into work. Now that web and social media are so heavily relied on, I am constantly working with each department to apply content changes to the website and share virtual events and deadlines to social media. We understand that virtual learning is not for everyone, but my colleagues and I have done everything in our power to ensure a smooth process and support our students. I am so proud of the innovation that has come from all of this.
Our once packed events in the quad, are now quiet Zoom meetings and webinars.
I typically skip lunch because I am constantly pulled in so many directions throughout the day, and it gives me the opportunity to "log off" at a reasonable time.
Although many of my fall marketing campaigns consisted of BART ads, mailers and billboards, I have now shifted my focus to social media ads, Spotify, radio and TV. The great thing about the web ads, my favorite, is that I am able to better measure their success.
I can confirm that 200,000 people saw my add and this led to 5,000 clicks to Laney.edu. I am also able to target these ads by demographic, and collect the analytics. This success has allowed me to go forward with the digital campaigns. While this is great, not everyone is one social media, so the need for other methods still exists.
Although, I often find myself stressed out and overwhelmed, I can truly say that I am grateful to be home to make dinner each night (takeout nights are still a must for the crazy-busy days).
Aside from sharing what a day in the life of a Public Information Officer looks like during a pandemic, I want to share that if you are feeling the COVID-blues, if you are not yourself, or if you're a parent struggling with distance education…you're not alone.
Let me say this again, you're not alone and it's ok to feel how you feel.
By May, I noticed that I wasn't feeling like myself, I felt so blah, as I would tell my husband. I have made it a point to stop when I get overwhelmed, take a day for self-care, and stop being a perfectionist. Also, I've learned to say no when I need to. I had a bad habit of taking things on when I was already busy.
No one has trained for something like this and feeling overwhelmed is totally a valid response to working and learning at home, during a time filled with so much uncertainty.
A bigger part of my role at Laney is serving as the main point of contact for our students, faculty and staff members, for general information. I have learned along the way that many, many, people are having a tough time, and they are truly doing their best.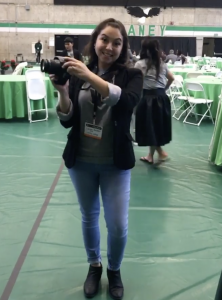 I find it most rewarding when I set students up with the tools and resources needed to checkout a Chromebook, when I hand them a meal during our lunch giveaways, or apply changes to our website to make the user experience smoother (implementing things such as live chat).
We are witnessing a social uprising and a pandemic; the need for communication and transparency should not be taken lightly.
I am honored to serve Laney College as its PIO, especially during COVID. It is an energetic, diverse and innovative environment, filled with employees who do everything it takes to ensure the success of our students.
Even in our new virtual setting.
Check out Laney College on the season 5 of Last Chance U here.
Follow Laney College on Facebook, Twitter and Instagram!