by Kenny Wardell Sr.
Managing Director, BAMMIES Music Foundation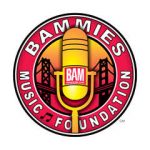 Retiring president of the BAMMIES Music Foundation (the "BAM" part stands for "Bay Area Music"), Kenny Wardell Sr., has announced that ABC 7 senior news anchor Dan Ashley will succeed him as president of the non-profit organization. On October 1, 2020, a virtual ceremony at the Sound Image headquarters in Hayward California was witnessed by a limited number of journalists seated in the studio safely distanced from each other.
Dan Ashley is the senior anchor of the top rated ABC 7 News at 5:00, 6:00, & 11:00 p.m. In his thirty years on television, Dan has reported on a wide-range of issues and events that affect our lives. As a journalist, Dan has covered stories all over the Bay Area, the country, and the world.  In addition to his news career Dan is also an accomplished musician who leads his own Americana / Country Rock band and he produces many benefit concerts and special events around the San Francisco Bay Area.
"The BAMMIES have such a rich history and have played such an important role in recognizing the Bay Area's vibrant music scene and enormous contribution to the industry," said Dan Ashley.  "I am delighted to join the BAMMIES Music Foundation to help keep that wonderful tradition alive."
The BAMMIES Music Foundation is a recognized California State 501(c)(3) tax-deductible non-profit organization that was formalized after the "BAMMIES Reunion Concert" in March of 2018.  The 2021 goals of the BAMMIES Music Foundation are to "Bring Back the BAMMIES for the Next Generation" and to build on to the "BAMMIES Walk of Fame" located in front of the Bill Graham Civic Auditorium. Read more about BAM Magazine and the BAMMIES. 
Back to the "Off Camera" INDEX page…