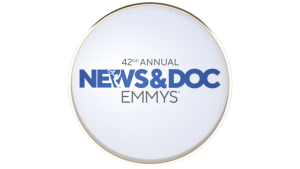 (NEW YORK, LOS ANGELES) – Winners of the Documentary categories of the 42nd Annual News and Documentary Emmy® Awards were announced by The National Academy of Television Arts & Sciences (NATAS). The News & Documentary Emmy® Awards are presented as two individual ceremonies: categories honoring Television News Programming were presented yesterday, on Tuesday, September 28th; categories honoring Documentaries were presented, Wednesday, September 29th. Both ceremonies were live-streamed at 8 p.m. EDT/5 p.m. PDT on our dedicated platform, Watch.TheEmmys.TV powered by Vimeo.
"Tonight, we celebrate these documentary professionals who in the unprecedented year of 2020 delivered the insightful, clear, factual and timely filmmaking necessary to make sense of the tumultuous times that we live in," said Adam Sharp, President & CEO, NATAS.  
"In a year where we received more than 1,200 documentary entries, in an era where, thanks to the advent of streaming television, more people can now see this amazing work on demand across our nation, tonight we celebrate these brave filmmakers for opening their lens and our eyes to the world around us and helping us to better understand the events that affect our everyday lives in remarkable ways," said Terry O'Reilly, Chairman, NATAS.
The ceremony was hosted by the following documentary filmmakers:
JUNE CROSS – Documentary Filmmaker & Columbia Journalism School Professor
CJ HUNT – Documentary Filmmaker, The Neutral Ground
SONJA SOHN – Documentary Filmmaker, The Slow Hustle/Actress, Body of Proof and HBO's The Wire
Click here to view the complete list of the award recipients.