The National Academy of Television Arts and Sciences San Francisco chapter is holding a special event on Saturday, October 23. The event will be a virtual roundtable, moderated by NATAS Officer Nazy Javid, consisting of a panel of well-established news leaders from the Northern California region.
This event is available to members only, and will give attendees the chance to ask questions to the following panelists:
VP of News Stephanie Adrouny | KNTV Bay Area
News Director Derek Schnell  KCRA Sacramento
News Director Martin Ortiz | KFSN Fresno
News Director Janice Gin | KITV Hawaii
News Director Nazy Javid | KAEF Eureka
To submit questions for the panel, email SShlisky@emmysf.org.
Click here to RSVP!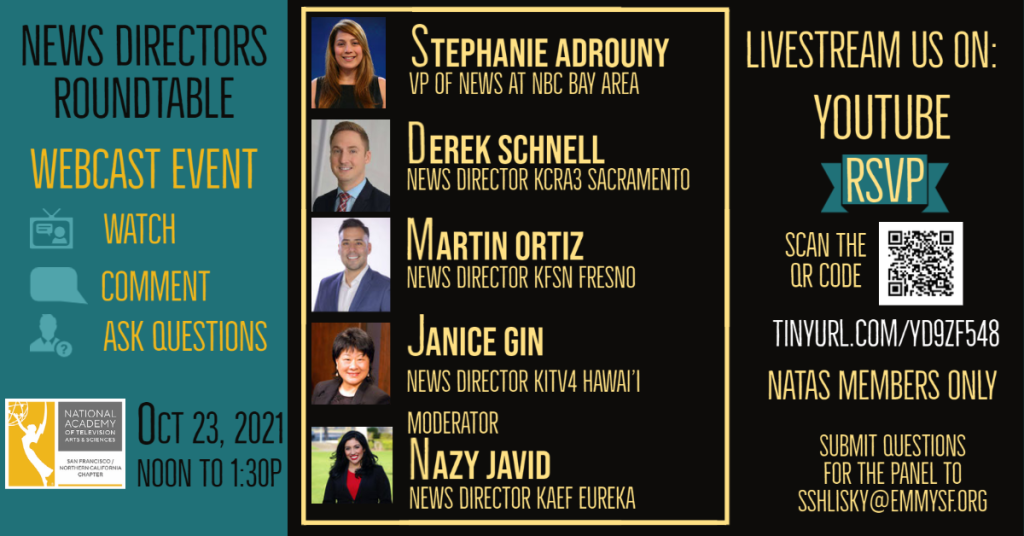 VIRTUAL EVENT INFORMATION
WHAT: News Directors Roundtable
DATE: Saturday, Oct, 23
TIME: Noon to 1:30 p.m. PT
Click here to RSVP! 
Click here to learn more about how to become a NATAS SF member.