By Pamela Young
NATAS Governor
Honolulu 2018 Primary Election Night—

I am in a news car speeding to Waimanalo as the 3rd printout is released, showing what will be the final results of the Gubernatorial, State Legislature and City Council races. I am one of three Rovers, traveling to different precincts and candidates' headquarters around the island of Oahu. Waimanalo is my 5th location of the evening.
Honolulu 2020 Primary Election —
The election is 2 weeks away. I'm anticipating spending the evening at home with a cup of tea and sudoku. On a night that is usually "all-hands-on-deck", we are reduced to a few on-set, in-studio personnel, a couple producers and one very frantic web master. Such is election coverage in the age of Covid.
"Covering elections is just as strange as covering any other news story in the pandemic," says KITV weekend anchor Diane Ako. "Much is lost without the eye-to-eye, in-person access to the candidates. And on election night we won't feel the energy in the room."
There might not even be a "room" since most candidates have not set up campaign headquarters. "From an engineering standpoint, we don't know how to prepare," says former Hawaii photographer Harry Lai, now a live truck operator in Boston. "We don't know the set-up or format because the candidates themselves have no idea how they're going to pull this off."
PBSHawaii was first out of the debate gate with a June 18th non-studio Mayoral gathering. Eight candidates agreed to a debate format, but moderator
Yunji deNies
quickly found herself herding cats, as candidates ignored time limits and shouted over and at each other.
"We could no longer safely accommodate races with more than four candidates in our studio so we shifted to internet conferencing programs," says PBSHawaii VP of Content Chuck Parker."
We used an audio source separate from the internet video feed to provide higher-quality sound. The sound was excellent but it created an untenable situation of candidates talking over each other and limited the ability of the moderator to interject. We have since changed that practice."
KHON2 opted to rent the 1700-seat Hawaii Theatre to space out podiums for 5 candidates and a moderator. Everyone wore masks when not speaking. Executive Producer Jennifer Brink says the empty auditorium is the precursor of other election events. "Where we usually have candidates hosting big potluck parties in ballrooms, this year we may see online interviews instead. It's forced us to re-evalute the normal plans we execute, and think differently in terms of how do we bring the viewers the results and reaction that they've come to expect."
Assignments Manager Dave Patterson says everyone is navigating this new territory where reporters and photographers are replaced by Zoom, Snapchat, FaceTime and YouTube Live.
"Because of social distancing candidates haven't been holding campaign events or rallies," he says. "On election night we won't have live shots at campaign headquarters. The coverage will have a lot less energy. Everything will be virtual."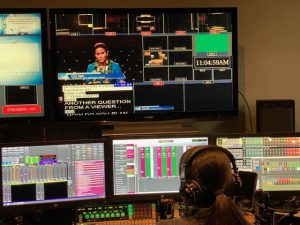 "In a way, covering elections has been made easier for those of us in digital," says KHON webmaster Nicole Napuunoa." Virtual coverage is a space that we are comfortable in. It was really a matter of others learning the technology and realizing that any moment, any space can become a virtual news conference."
---