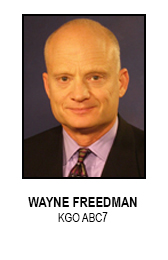 National Trustee:  2019-2021
Awards Chair:  2016 – 2021
Governor:  1988-1990, 1992-1994, 2006-2010, 2014-2018
And, an ABC brat, as well.My father, Mike Freedman, began with ABC in 1948, and pioneered the use of live, hand-held video cameras for network coverage of news and sporting events. He had me in the field with him almost as soon as I could walk. "Son, if you want to work in television, do the news," he said. "They don't cancel the news."I'm the bald-headed reporter who likes to shoot many of my own stories. It's what I have always done. In ninth grade, I published my first regular column for what is now The Los Angeles Daily News, and continued it through high school. In 1977, I earned a Bachelor's degree in Political Science from UCLA while working as a network page assigned to the newsroom at KABC-TV in Los Angeles. In 1978, I finished my Masters Degree in Journalism at the University of Missouri. It's a great school. If you want to be a reporter, go there. Seriously. I have been on San Francisco television since 1981, beginning at KRON. Before that, I worked at stations in Louisville and Dallas. In 1989, CBS Network News hired me to produce and report national feature stories for CBS THIS MORNING.ABC7 hired me in 1991. Since then, I have covered all kinds of local, state, national, and international stories. They include Russia's Second Revolution in 1992 and Hurricane Katrina in 2005, along with major fires, earthquakes, elections, and NASA space missions. Twice, I crossed the country by train, visiting small towns and taking the pulse of America following the September 11th attacks. My book, IT TAKES MORE THAN GOOD LOOKS TO SUCCEED AT TELEVISION NEWS REPORTING, now in its Second Edition, is required reading for major college journalism programs in the United States, Canada, and Europe. Since 1990, I have conducted more than one-hundred narrative writing and visual storytelling seminars for newsrooms and national organizations in the United States and overseas. Many people know me as the recipient of fifty-one Emmy® awards. I earned thirteen of them for Writing, and fourteen others in the category of On Camera News Talent. There have been other multiple Emmy® Awards in the categories of Breaking News, Feature Reporting, Feature Series, Sports Reporting, and News Programming Special. I am also a member of the Northern California chapter's Silver Circle. In 2011, I received my 50th Emmy® Award for shooting and editing my own stories as a multi-media journalist. After the 51st, I retired from that competition, and now encourage others. In 2012, I received a regional Edward R. Murrow award for writing.In my spare time, I golf. Occasionally, I shoot a round at scratch—very occasionally. I am a member of the Golf Writers Association of America, having produced articles for several national publications, and write the Northern California Golf Guide for ABC7News.com. And, I am a "Top 100" panelist for Golf Digest Magazine.When I'm not telling stories, I'm sharing them on Facebook. Share a story with me on my page. I also tweet! Follow me on Twitter.