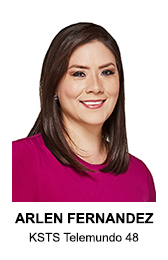 Governor:  2017-2019 replacing Mary Carrenolm, 2020-2022
Arlen Fernandez is a bilingual broadcast journalist with extensive experience in the Television industry. She joined Telemundo 48 Área de la Bahía in April 2016 after working at Univision Network for 10 years where she performed several roles such as News Assistant, Associate Producer, Producer and Reporter.
As a on camera talent, Arlen has reported for a local market with Univision 23 Miami and for Noticiero Univision at a national level. Arlen also embraced the Digital Platform, as a Multimedia Producer for UnivisionNoticias.com
After 10 years at Univision she joined "Telemundo 48 Área De La Bahía" in San José, California as a News and Consumer Investigative Reporter.
Before joining Univision Arlen hosted live coverage of Special Events as a Reporter for Centroamérica TV, a channel created by Dish Network focused on the Central American community in the US.
Fernández holds a Bachelor Degree in Broadcast Journalism from Florida International University
Arlen Fernandezl Consumer Investigative Reporter
2450 North First Street l San José, CA 95131
O: 408•432•4528
C: 408•709•6110
Línea de quejas 844•408•4848