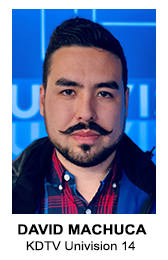 Governor 2021-2023
Technology Committee Chair
David Santiago Machuca, KDTV Univision 14, San Jose
Born and raised in Bogota Colombia, D. Santiago Machuca has been involed in braodcast since a very young age.  He has worked in Colombia's number one network Caracol as a photog and has extensive knowledge as a producer in radio.  Santi moved to Florida 7 years ago where he covered anything from daily stories to hurricanes as a photographer, director and editor at Telemundo and Univision. Currently he is part of the Operations team at Unvision, where any given day you can find him directing, shooting video or even in the creative services department..