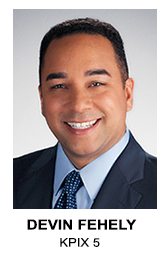 Governor 2021-2023, 2023-2025
Devin Fehely, KPIX 5, San Francisco
Devin Fehely is an award-winning anchor, reporter, photojournalist and drone operator at KPIX CBS 5 in the San Francisco Bay Area. A San Jose native, Devin joined the KPIX newsroom in 2015. He currently anchors the weekend morning newscasts and reports from the South Bay. In a career that's spanned more than two decades, Devin has received 14 Emmy Awards, including awards for Reporting, Writing and Photography. He is also the recipient of seven Regional Edward R. Murrow awards for among other things Excellence in Writing and Excellence in Video. Devin says his passion as a journalist is for investigative reporting and in-depth feature storytelling. Devin says he also enjoys the incorporation of creative drone video to enhance his news reporting. He is the station's senior most drone pilot. For the past several years, Devin has served on the Northern California Emmy® Awards Committee helping to shape policy for and administer the annual competition. Devin was also recently a guest speaker at a NATAS seminar for multimedia journalists.