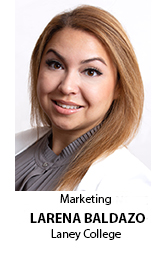 Governors' Service Medallion 2022
Marketing Chair 2018-2023
Governor: 2017-2018 (replacing Robert Campos), 2018-2020

Larena Baldazo discovered her passion for storytelling at the age of eight. She regularly made her own books out of cardboard and paper she had snuck out of her mom's printer and crafted her own fictional storylines with illustrations.
Although the stories faded away with time, her passion never died down. It evolved into a different kind of storytelling.
She began her academic journey at Los Medanos College in Pittsburg, Calif., where she says to have, found her passion. The journalism major became a reporter for the Experience Newspaper, where she learned the fundamentals of news reporting, copyediting and photography.
Larena, now 24, transferred to John F. Kennedy University in Pleasant Hill, where she would earn her Bachelors Degree in Journalism & Digital Media. At this time, she also worked as an office/editor's assistant and blogger for BabyCenter.com.
Just before graduation, Larena was hired as an intern at KTVU Channel 2 News, where she helped work the assignments desk and wrote stories for KTVU.com. The television station worked much differently than the newsroom for print and web, yet she felt right at home.
While interning at KTVU, the mother of two worked at Bond Manufacturing Co., a global manufacturer of outdoor consumer goods, as its Web Content & Ecommerce Manager. After four years of managing the company's online reputation, social media, and online assortment for retailers such as Amazon, Lowe's, Target, it was time for a change.
In 2019 she married and ventured into the world of academia, where she became Laney College's Public Information Officer in Oakland, Calif. and wore many hats!
By 2022, she would say goodbye to the Laney Community, shortly after launching the college's first-ever free tuition program, Fall is Free. Larena currently serves the Contra Costa County community at the Employment & Human Services Department as its Web Producer.
Connect with her on LinkedIn here!