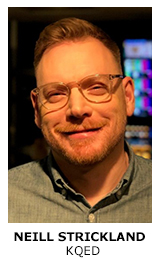 GOVERNOR 2023-2025
Neill Strickland
TV Production Operations Specialist, KQED
A broadcast veteran with more than 30 years experience, Neill Strickland started his broadcasting career at the BBC in the late 1980's. Working between Network Television and Radio, he rose from Sound Engineer, to Journalist / Reporter, and from there to News Director and Director of National and International News programming for BBC News & the BBC World Service before moving to Los Angeles to work at the BBC Bureau.
Moving to San Francisco in 2012, he worked at KRON-TV, KPIX/CBS 5, held a management position at Pac-12 Networks before joining Vizrt as a Solution Architect for automation systems.
Now based at the San Francisco PBS/NPR affiliate, KQED, Neill works within TV Production Operations at their brand new state of the art facility in the Mission District.