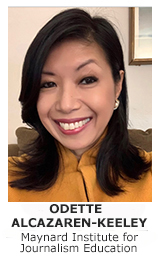 GOVERNOR 2023-2025
Odette Alcazaren-Keeley
Director, Maynard 200 – Maynard Institute for Journalism Education
President + Founding Partner, Global MediaX
Board Trustee, Golden Gate National Parks Conservancy
I am Odette Alcazaren-Keeley, a strategic communications and media executive.  I am the director of the Maynard 200 Journalism Fellowship of the Maynard Institute for Journalism Education. The program bolsters the leadership power of the next generation of media professionals, to shift the culture in America's newsrooms to belonging.
SPJ-NorCAL Board awarded my work in 2022, citing Maynard 200 as "one of the country's most powerful incubators for journalists of color".
As a Filipino-American woman media leader, the president and founding partner of Global Media X, I leverage the collective power of diasporic media.
My broadcast journalism career over 30 years includes launching the North America news bureau of The Filipino Channel – ABS-CBN International headquartered in the Bay. I was executive producer and co-anchor; and was associate  producer and news reporter for ABS-CBN Channel 2.
I was a regular panelist on KQED-TV and KQED-FM including "This Week in Northern California" and "Pacific Time." I hosted and produced "New America Now" on 91.7 FM KALW and Comcast Hometown Network-TV, and also anchored 'Upside.'
I was awarded as one of the 100 Most Influential Filipinos in the US, and am also a board trustee of the Golden Gate National Parks Conservancy.