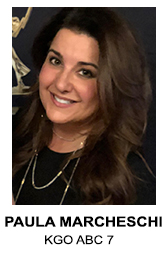 Governor 2021-2022, 2022-2024
Paula Marcheschi is a Bay Area native, I grew up watching ABC7, but didn't aspect to spend my nearly 30-year career at KGO-TV.  I've never been bored, because as the "TV" business evolves, so do i.  I consider every new challenge an opportunity, and there have definitely been plenty!
I'd love to share my passion for storytelling and professional development with the San Francisco Northern California Chapter of NATAS.  My background in both News and Branding gives me a valuable, diverse perspective to pass along to the next generation of journalists?
CREATIVE DIRECTOR:  2011 – Present
WRITER, PRODUCER, EDITOR | PROMOTION:  2005 – 2010
MEDIA MANAGER, EDITOR, WRITER | NEWS:  1999 – 2004
WRITER, PRODUCER, EDITOR | PROMOTION:  1993 – 1999
PRODUCTION ASSISTANT | PROGRAMMING & PROMOTION:  1992
INTERN | PROGRAMMING: 1991
8+ EMMY AWARDS: Producing | Editing | Creative Direction | Set Design
SKILLS:  Branding | Writing | Editing | Graphic Design | Presentations | Workflow
NON-PROFIT BOARD EXPERIENCE:  Vice-Chairman, ArtSpan
INTERESTS: Arts | Architecture | Food | Travel | Warriors (Go Dubs!)