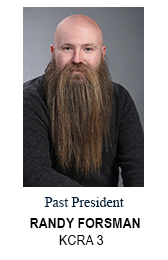 Governors' Service Medallion 2018
Past President 2022-2024
National Trustee:  2019-2021, 2021-2023

President 2020-2022
Secretary:  2016-2020
Governor: 2015
Randy Forsman-Senior Newscast Director-NBC KCRA 3 Sacramento
Randy Forsman is a nine-time Emmy® Award-winning director at KCRA in Sacramento, California. His career began in 1997 when at the urging of his high school video production teacher Robert Garcia, he took an internship at KCOY in Santa Maria, California. Throughout the years he has been the director of newscasts at KSBW in Salinas, California as well as WPTZ in Plattsburgh, New York before eventually being hired by KCRA where he has been directing since 2007.
His many directing credits include a 2010 live California Gubernatorial debate between Meg Whitman and Jerry Brown, a 2016 live California Senate debate from the University of the Pacific in Stockton, California, as well as numerous other live specials from town halls to community telethons. In addition, he directed the live webcasts of the 47th and 48th Annual Northern California Area Emmy® Awards.
Since 2015, Randy has served the board as governor, secretary, and is currently a national trustee of the San Francisco / Northern California chapter of NATAS. In 2018 he was awarded The Governors' Service Medallion for his efforts.
Aside from directing, Randy and his wife travel the country to compete in facial hair competitions to raise money for various local charities. In addition to winning numerous bearding trophies since 2017, they document their experiences on their YouTube channel "The Fursmans."
Contact:  randyforsman@emmysf.tv
You can find Randy on Twitter:
twitter.com/RandyForsman