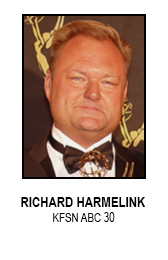 Governors' Service Medallion  2014
Richard serves on the NATAS Board as a Fresno Governor. Richard's duties with NATAS include being the Chair of the Governor and Officer Nominating Committees, member of the Awards Committee and Emmy® Event Committee. He has also served as a past Vice President of the Fresno region.
As for Richard's professional career, he is a Photojournalist for the DISNEY / ABC television station in Fresno (ABC30). Before that Richard worked in Bakersfield. Richard has won four Emmy® awards and has been nominated for several others along with being honored with the Governor's Service Medallion for his work on the NATAS Board in 2014.