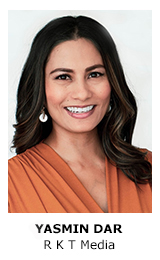 GOVERNOR 2023-2025
Yasmín Dar
President/COO, RKT Media
Yasmin Dar is a successful businesswoman and mother of four, who graduated from Aiea High School and later earned a B.A. in biology and an M.A. in communications from the University of Hawaiʻi at Mānoa. Despite initially intending to pursue a medical career, Yasmin changed her path after becoming a traffic anchor and social media reporter for KITV4 morning news. She then moved to Eugene, Oregon, to become a primetime evening anchor for KVAL-TV before returning to Honolulu with her husband, Sal Fasi, to raise their children.
She was the digital media specialist for Governor David Ige for three years before becoming President and Chief Operating Officer of RKT Media, a video production company that helps local businesses and nonprofits tell their stories through creative videos produced by professional journalists and videographers.
Yasmin hopes to serve on the Board of Governors with The National Academy of Television Arts and Sciences to help elevate the stories and storytellers of Hawaii. Together with other key players like Mckenna Maduli, Pamela Young, and Gerard Elmore, they plan to build membership and group events to benefit those separated from the Bay Area. Their goal is to create more opportunities for members to connect and collaborate to bring greater attention to the unique stories of Hawaii and the talented individuals telling them.