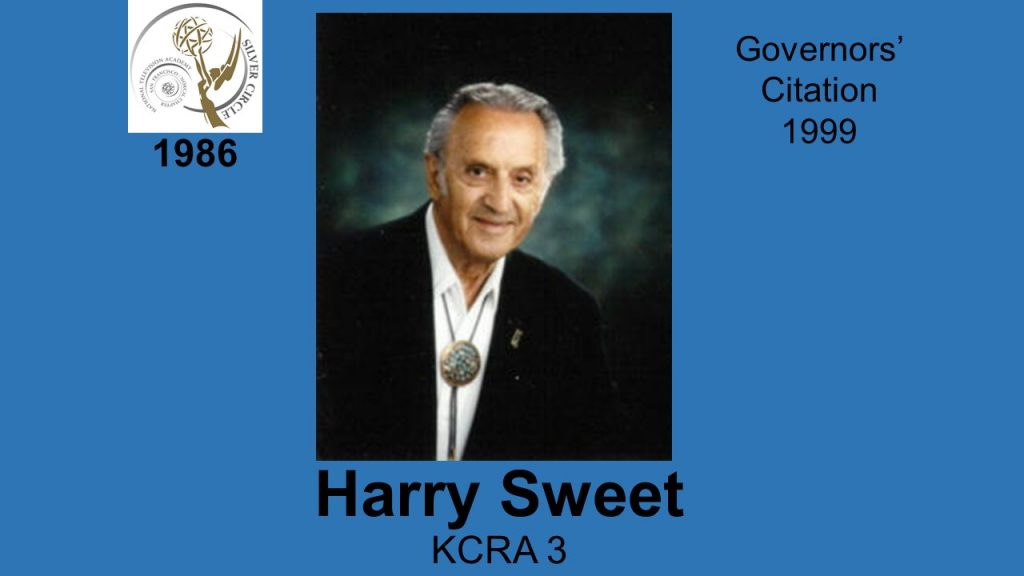 HARRY SWEET was the first television cameraman hired in the Sacramento Valley in June 1953; five months before KCCC channel 40 went on the air. KCCC went dark three and a half years later. Harry was hired as Chief Photographer at KCRA Channel 3 by owner/operator Ewing C. Kelly because he had experience. He spent the next 33 years at KCRA.
Harry's second career started on his retirement, when he convinced management to let him donate the entire 18 million feet of film he had saved for 30 years, valued at $9,000,000 to the Sacramento History Museum Collection Center. In June 1990, KOVR also gave their film collection to Sweet. With his wife Mauvis, they donated the collection to Sacramento State University. Harry donated over 3,500 hours to help catalog the now renamed, THE HARRY SWEET FILM COLLECTION, valued at $4,300,000.
Harry Sweet was named THE MOTION PICTURE CAMERMAN OF THE YEAR in 1968 by the California Press Photographers Association. He is a member of the first Silver Circle Class, 1986, and the owner of Studio 9 Film/Archive Productions.