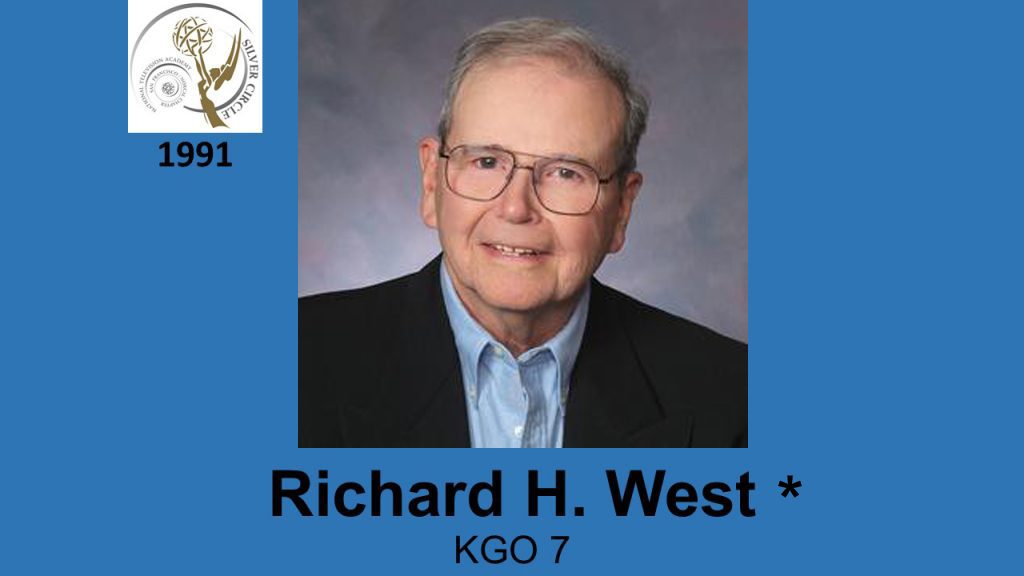 RICHARD WEST. In 1953, Dick was hired by KGO-TV as a summer  relief floor manager, becoming a permanent employee in 1955. He worked on such local programs as the Lucille Bliss Birthday Party, various cooking shows, the Biggee Jamboree and many commercials. Active as a NABET representative, he later held the positions of Operations and Production Manager and Acting Program.Director. He now owns a commercial real estate appraisal organization in Sacramento and is an instructor  of broadcasting  at Cosumnes River College.
 Richard H. West, who was inducted in 1991 into the Silver Circle of the San Francisco/Northern California Chapter of The National Academy of Television Arts & Sciences and who was a pioneer in Bay Area and Northern California television dating back to the early 1950s, has died.
       West's family says he died at his home in Auburn, near Sacramento, on Dec. 19, 2016.
       West began his career in broadcasting while attending then-Humboldt State College in Arcata before transferring to the College of the Pacific to study broadcasting there. He worked at KECC and KBOX during his senior year in college.
       In 1953, he went to work for San Francisco's KGO-TV. During his career, West advamced to eventually become a radio producer.
       With a bachelor's degree in broadcasting, West eventually began a two-decade career with ABC and the production team of the network's venerable Wide World of Sports broadcasts with host Jim McKay.
       Later, as a partner in Waldear Motion Picture Productions, he as nominated for an Emmy® Award. He was also, at one time, executive director of Marine World and received seven national advertising awards.