By Randy Forsman
NATAS Chapter President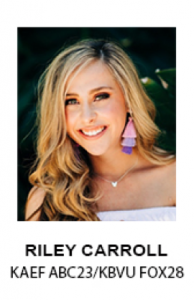 Riley Carroll, multimedia journalist for KAEF ABC23 and KBVU Fox 28 in Eureka, as well a member of our Board of Governors, has accepted the role of weekend anchor/reporter at KRDO Channel 13 in Colorado Springs, CO.
Although only elected as governor earlier this year, Carroll has already made a name for herself within the San Francisco / Northern California of The National Academy of Television Arts & Sciences. She recently chaired our Governors Nominating Committee charged with finding new candidates for the Board of Governors. She also put together an informative piece about the history of the Emmy® Statuette which was part of the 50th Northern California Area Emmy® Awards.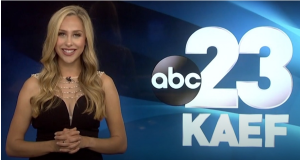 "I am so grateful for NATAS and my time I have spent on the board. Not only has it opened my eyes to the technical world of Emmys, but it has introduced me to people I would have never otherwise had the pleasure of meeting," Carroll says. "I am looking forward to staying involved and joining the Heartland Chapter when I move, where I am sure I will meet more skilled and hardworking television professionals."
Carrol's last day in Eureka is August 6. I'm sorry to see her go, but I know she'll accomplish great things in Colorado Springs. Please join me in congratulating Riley Carroll on her new position!