By Kevin Wing
Editor, Off Camera
Pete Liebengood, who was a popular sports anchor and reporter in San Francisco and Sacramento, has died at the age of 73.
Liebengood passed away Dec. 22 in Redwood City. He was the husband of Alicia Aguirre, a Redwood City councilwoman.
Liebengood made his mark on northern California television beginning with KCRA in Sacramento, where he launched his television career. He served as a sports reporter and anchor there before heading to the Bay Area to work as a sports anchor and reporter at KRON in San Francisco. He also went to work for ESPN during its early years.
Born Don Peter Liebengood on Sept. 17, 1944, to Don and Jean Liebengood in Pontiac, Illinois, he and his younger brother, Tom, grew up in Santa Barbara when the family moved to California.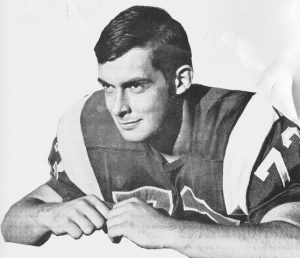 Liebengood attended San Marcos High School, where he excelled in football and was named All-American in 1962, the year he graduated. Later, he graduated from San Francisco State University with a Bachelor of Arts in radio, television and film. While at San Francisco State, he continued his football career and was named All-FWC offensive left tackle in 1965. In 1988, he was inducted into the San Francisco State Athletic Hall of Fame.
In 2017, Liebengood was inducted into the San Francisco State Gridiron Hall of Fame.
After graduating from college, Liebengood joined the California National Guard. His lifelong love of sports carried over to his professional career as a sports reporter and anchor. While working at KCRA in Sacramento, Liebengood and his first wife, DeeAnna, raised their two sons, Kelly and Kevin.
Eventually, Liebengood's career took him to KRON, where his broadcasting career blossomed. He not only anchored and reported at KRON, he also produced. It was during this time that Liebengood also worked occasionally for ESPN, then an upstart national sports network.
His well-rounded love for sports took him across the world and was evidenced by the variety of play-by-play contributions he made: college football (including "The Play" in the 1982 Big Game) and basketball, tennis, rodeo, boxing and World Cup skiing.
In 1998, Pete Liebengood married Aguirre, and moved to Redwood City with her and her sons, Pablo and Eric.
From 2010 to 2014, Liebengood operated Fresh Takes, a nonprofit media arts center dedicated to under-served youth. He also served on many non-profit boards, including PeninsulaTV, Rotary Club of Redwood City, Redwood City Police Activities League (PAL) and the San Mateo County Sheriff Activities League (SAL).
He served as president of the Rotary Club and the San Mateo County Sheriff Activities League and received numerous awards from local non-profit organizations recognizing his commitment and dedication to the community. Liebengood was also a champion of his wife as she served as mayor and councilwoman for Redwood City.  
Liebengood's passion for writing manifested itself in his pursuits as an author, and he wrote and published six novels since 2010.
Besides his wife, Alicia Aguirre, Liebengood is survived by her two sons Pablo (Diana), Eric (Molly), his brother, Tom, his two sons Kelly (Marietta) and Kevin (Christie), and seven grandchildren: Chloe, Caleb, Caedmon, Aiden, Campbell, Asher and Mia.
In lieu of flowers, donations in Liebengood's name may be made to the San Mateo County Sheriff Activities League.
Back to "Off Camera" Index page…