By Kevin Wing
Editor, Off Camera
For 20 years, Laura Zimmerman graced television screens in northern and central California as an anchor and reporter. She worked in Santa Maria and Santa Barbara along the Central Coast before returning to the Bay Area, where she worked at stations in San Jose, Oakland and San Francisco.
Perhaps best known for her nearly five years as a news anchor at KTVU in Oakland during the first several years of the station's then-new Mornings On 2 newscast, she later joined KGO-TV in San Francisco to serve as co-anchor of the station's Marketplace financial program with Rosie Allen.
After her time at KGO-TV, Zimmerman disappeared from Bay Area television screens.
So, whatever happened to the always-effervescent Zimmerman?
It was around that time that she and her husband, architect Jeff Zimmerman (they were living in the East Bay, first in Alameda and then Lafayette), moved their young family to Sonoma, where he designed their beautiful home. And Laura went to work in education, eventually becoming executive director of the Sonoma Valley Education Foundation.
And, the Zimmermans are growing grapes right now, too. In Sonoma Wine Country, that's certainly not unheard of.
But, being a journalist remains in Laura Zimmerman's blood. She, along with another former Bay Area television anchor, Sydnie Kohara, have paired up to write a series of articles for a local Sonoma County magazine, Valley of the Moon. Recently, the pair wrote a featured article about several women in Sonoma Valley and the challenges they have faced as women and talking about those challenges in this era of the #MeToo movement.
While Zimmerman is still known for her work on Bay Area television, she took a stab at journalism when she wrote for the school newspaper at the University of California, Santa Barbara. She was 18 at the time, and new on campus. She was so new that one day, seeking someone to give her directions, she inadvertently walked into the newsroom of the campus newspaper. That is where the student editor, who not only gave her the directions she was looking for, persuaded her to write for the school newspaper.
"From that time on, I never really did anything else," Zimmerman said.
After graduation, and back in the Bay Area, Zimmerman became a production assistant at KGO-TV, the ABC station in San Francisco.
KGO-TV was "journalism, with a capital "J", she added. "I learned so much there."
The year was 1980, and as Zimmerman puts it, it was "an exciting time to be in news." And working in TV, it was ironic that she didn't have a TV of her own. So, she told her father and he brought over a TV for her to use.
"It was a presidential election year, of course," she added. "And a lot happened in the world during my first year. John Lennon was shot. The pope (Pope John Paul II) was shot. A lot was going on that year. KGO was a great place to learn, and working with the likes of (Fred) Van Amburg and Jerry Jensen, it was definitely an exciting time to be in news and for someone like me to learn it all."
"People there were very helpful to me," Zimmerman said. "I was in my mid-20s at the time. I just wanted to work. And that's where I learned how to write news stories. I soon realized I wanted to be a reporter."
After three years as a production assistant at KGO-TV, Zimmerman was hired as a reporter at KCOY, the CBS station in Santa Maria. The year was 1983, and, as luck would have it, she would end up returning to her old Santa Barbara stomping grounds to work for the station's Santa Barbara news bureau. Naturally, a lot of network correspondents were always in Santa Barbara on a Reagan story.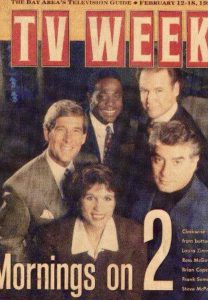 "And that was an exciting time, too, and to be in Santa Barbara was pretty nice. (Ronald) Reagan was president then, and he would visit his Santa Barbara ranch, known then as the western White House, a lot," she said.
In 1986, after three years at KCOY, Zimmerman returned to the Bay Area again, this time to accept a job as a weekday reporter and weekend anchor at KNTV in San Jose. She would eventually anchor the station's 30-minute morning newscast at 6:30 AM.
"KNTV was riding high at that time, having recently rebranded itself as "The San Jose News Channel" to capitalize on its Silicon Valley presence, Zimmerman said. It was the ABC affiliate for the Salinas-Monterey market then, before it dropped its ABC affiliation to become the then-new NBC-owned station for the San Francisco market, in 2002.
"I worked with a lot of wonderful people there, like Doug Moore and Maggi Scura, and Marla Miller," Zimmerman said.
The station eventually promoted her to anchor its then-new 6:30 a.m. newscast.
She remained at KNTV until 1991. KTVU hired her that fall to become a co-anchor, eventually with Frank Somerville, on its Mornings On 2 broadcast, which was still relatively new at that time.
"Channel 2 was a highlight for me, a very exciting period of time in my life," Zimmerman said. "Television was changing around that time, morning television in particular. Morning news helped to spur many live shots in a newscast, and so we did just that. There was a real commitment for us to be progressive."
"Fred (Zehnder, KTVU's longtime news director) was wonderful. I learned a lot from him. We all did," Zimmeman said.
Zimmerman eventually left KTVU, in late 1995. She would later pop up on KGO-TV to co-host its financial-business program, Marketplace, with Rosie Allen. That is where Zimmerman would remain for five years.
After leaving television, Zimmerman went into non-profit work when she and her family relocated to Sonoma from the East Bay. They moved to Sonoma in 2000. Their home, situated on several acres just outside Sonoma, also has three acres of grapevines. The Zimmermans grow pinot noir and zinfandel grapes.
"It's not our main income, but it's a great hobby," Zimmerman said with a laugh. "We have 3,000 vines and it's a huge amount of work." Their brand is One Oak Vineyard, and they sell their grapes to wineries, including St. Francis Winery and Flowers Winery.
Zimmerman said she enjoyed doing the non-profit work with the education foundation, but she admits the journalistic work is always the most compelling for her. "It feels so good," she added, eluding to her recent work for the Valley of the Moon magazine.
During her daily schedule, Zimmerman always makes time for her 94-year-old mother, Janet Frederick. She not only visits with her mother and takes her out to lunch, but they run errands together and keep up on doctor appointments.
Zimmerman reflected on the state of journalism today.
"I feel grateful to have worked in Bay Area TV," she said. "The way news has changed today, it's never been more important that now than to have good news coverage," she said. "For those in the business today, it's such an important endeavor. I look at news today as a real revival. I love the collaboration between print and broadcasting. You so often see these Pulitzer Prize-winning reporters from the Washington Post or the New York Times, and now they're providing content for the TV news shows."