By Wayne Freedman
Chapter Awards Chair
As the person who has not missed an Emmy® Awards gala since 1982, it is true that after a few years, some of them do blur together in memory. We've held events at the St. Francis Hotel, the Grand Hyatt, the San Francisco Gift Center, SFJAZZ Center, the Palace of Fine Arts, the War Memorial Opera House, San Francisco City Hall, the Fox Theater in Oakland, and this list could continue.
But this year, beneath Cupid's Span on The Embarcadero during a pandemic in San Francisco?  It's the reason that our 2020 gala will likely stand out as being the most memorable, ever.
If you saw our streaming webcast the evening of June 6, we may have fooled you into wondering if we produced it live. We did not. Producer Julie Watts wanted the live feel. We pulled it off by back timing the show. Hosts and presenters recorded their segments based on their expected hit times in the rundown.
The production was a multi-night affair, with photographer Ken Day packing and unpacking his formidable light kit in different locations for each of our presenters.  We had Don Sanchez in Sausalito, Luz Pena in San Francisco, Julie Watts at her home in Sacramento. Kevin Wing on the Embarcadero with the San Francisco Ferry Building behind him, and a few feet away, chapter President Steve Shlisky and me with the Bay Bridge blinking in the background.
All of our chapter's regions were represented, with on-camera presentations by Kim Stephens in Fresno, Terri Russell in Reno, Nazy Javid in Eureka, and Pamela Young on Waikiki Beach.
This was Plan B of what began as a nightmare scenario after the Coronavirus forced us to abandon plans for the traditional stage show. If we wanted to have an Emmy Awards, this year, we would need to find another way to do it, and fast.
Hence, the pivot, the scramble, and commitment to this year's streaming gala. We put it together in roughly one month, complete with pre-produced speeches and an interactive Zoom Room that Julie conjured to maintain that feeling of a social gathering.
It worked.
Although we taped a week in advance, you may wonder how we managed to keep all of the results secret. Only two people had access to the names of all recipients:  Chapter Administrator Darryl Compton and President Steve Shlisky, who assembled the show in post production.
Anyone else with even a possibility of access signed an affidavit, promising to reveal nothing.  To their credit, our production people went to extremes in in honoring it.  Imagine Kevin Wing, who field produced all of the segments, taking refuge in his car.
"Can I come out, now?"
It is worth noting that while our live Emmy® Galas run 3.5 hours, Emmy® 2020 set a record at 2 hours and 7 minutes.
Better yet, you didn't have to fight traffic or pay for parking.
Those are wins all around. We feel good about what we accomplished. (Credits below.)
That said, let's hope we never have to stream an Emmy® Awards gala again.
Once was more than enough.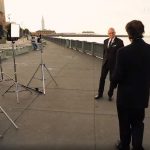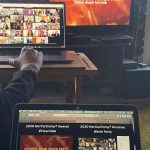 Watch the Emmy® SF 2020 Virtual Gala Livestream
See the Emmy® SF 2020 Nominee Zoom VIP Watch Party
Go to the AWARDS Page for Recipients List, Souvenir Program, Show and VIP Zoom links.
---
CREDITS
The 49th Annual Northern California Area Emmy® Awards – First Ever Virtual Gala
– Livestreamed June 6, 2020, 7:00p
Producer: Julie Watts, KOVR CBS 13
Associate Producer: Patty Zubov, Platonic TV
Field Producer: Kevin Wing, KNTV NBC Bay Area
Photographer: Ken Day, Ken Day Productions
Editor: Steve Shlisky, Laney College
Graphic Design:
Jet Townsend, KMAX CW31
Joshua King, Weld Media Productions
Livestream/Webcast:
Tracy Peterson, The AV Society
Darren McKeeman

Announcer:  Len Ramírez, KPIX 5
Hosts:
Luz Peña, KGO ABC 7
Don Sanchez, KGO ABC 7, retired
Julie Watts, KOVR CBS 13
Kevin Wing, KNTV NBC Bay Area
Regional Greetings:
Nazy Javid, KAEF/KBVU, Eureka
Kim Stephens, KMPH, Fox 26, Fresno
Terri Russell, KOLO 8, Reno
Pamela Young, KHON 2, Honolulu
Opening Montage:  Wayne Freedman, KGO ABC 7
The Governors' Award: Randy Forsman, KCRA 3
In Memoriam: Joyce Mitchell, 4U Productions
Social Media/Zoom Producer: Larena Baldazo, Laney College
In Memoriam music:  Royalty Free Music from Bensound
Emmy® Gala Committee:
Julie Watts, KOVR CBS 13, Chair
Patty Zubov, Platonic TV, Vice Chair
Randy Forsman, KCRA 3
Wayne Freedman, KGO ABC 7
Richard Harmelink, KFSN, ABC 30
Raul Lima, KUVS, Univision 21
Da Lin, KPIX 5
Joyce Mitchell, 4U Productions
Jose Munoz, Univision 21
Terri Russell, KOLO 8
Keith Sanders, San Joe State University
Kevin Wing, KNTV NBC Bay Area
Pamela Young, KHON 2
Larena Baldazo, Laney College
Awards Chair: Wayne Freedman, KGO ABC 7
President: Steve Shlisky, Laney College
Executive Director: Darryl Compton