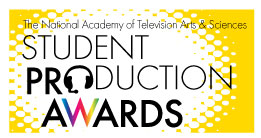 The San Francisco/Northern California Chapter of the National Academy of Television Arts & Sciences (NATAS) is committed to giving back to the industry via recognizing aspiring high school students studying TV production. This year, a record number of Pillars for Excellence and 14 Certificates for Merit were awarded. The competition had more than one-hundred entries from 14 high schools in the chapter's region from Visalia to the Oregon border including Reno, Nevada and Hawaii.
The Award for Excellence is an engraved glass pillar that is presented to the school with each student recipient receiving a certificate. A student that is given the Award for Merit is presented with a certificate.
"Many of these works will go on to a national competition," said SF NATAS President Steve Shlisky. "Last year, we had more national winners than any other chapter. Our local high schools produce some of the best work in the country."
Ten schools are receiving pillars and eight are getting Certificates for Merit. NATAS Education Chair Keith Sanders of San Jose University arranged for Academy Board Members to attend each high school to present the awards.
"It was an honor to go to Franklin High School in Elk Grove near Sacramento to present Andres Garcia with a pillar," said NATAS Sacramento Vice President Joyce Mitchell. "Garcia received two awards, one for excellence for his short fiction film and a merit for his cinematography reel. It was very exciting to present him with his awards during the school's morning bulletin, a recorded video message distributed throughout classrooms and administration offices."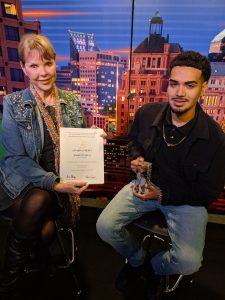 Some schools received multiple pillars. Other recipients included Tamalpais High School in Mill Valley, Buchanan High School in Clovis, Wai'anae High School and Moanalua High School – both in Honolulu, Whitney High School in Rocklin, Abraham Lincoln High School in San Jose, Ruth Asawa San Francisco School of the Arts, and Seldon High School in Sacramento.
Many of the students at those same schools were given Certificates for Merit. As Shlisky mentioned, the pillars are an "Award of Excellence" and the winning productions will move forward to a national competition between all 19 chapters of NATAS.
As for Garcia, a graduating senior at Franklin High School, he's heading to college next year to continue studying media production in southern California. He's committed to using the skills he's learning to help carry a message of hope to under-represented people, especially people in the Latino community. "I want to make a difference," said Garcia. "I want people to know that I understand their challenges."