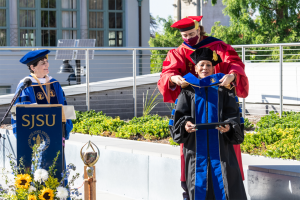 San Jose State University conferred an honorary doctorate degree to alumna and trailblazing journalist Valerie Coleman-Morris (Journalism Class of 1968) as part of the university's celebration of the Class of 2021 on Wednesday, May 26.
Coleman-Morris served as a reporter for the university student newspaper "Spartan Daily" during her time at SJSU, covering significant campus events such as the Dow Chemical protests and the Black Power salute by Tommy Smith and John Carlos at the 1968 Olympic Games.
Coleman-Morris went on to become a broadcast journalist in San Francisco and Los Angeles and also created and narrated the CBS network radio show "With the Family in Mind." In 1996, Coleman-Morris joined CNN, and in 2011, she published the book "It's Your Money So Take It Personally."
Coleman-Morris has three regional Emmy® awards and was a major contributor to KCBS radio's Peabody Award team coverage as co-anchor following the 1989 Loma Prieto earthquake. Other awards she's received include Black Woman of the Year and Outstanding Contribution to Broadcasting from American Woman in Radio and TV.
During her speech to the graduating class, Coleman-Morris imparted this wisdom on SJSU's newest alumni: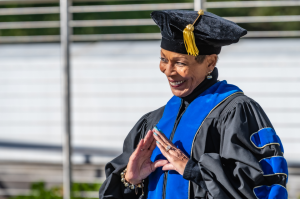 "Congratulations to each member of the class of 2021. I leave with this thought: My late father and his regularly repeated lesson about looking in the rear view mirror. It's important to do, he'd tell me. Glancing in the rearview mirror reminds you where you've come from. And then dad would pose the question, and then he would also pose the answer and say, 'What happens if you look in the rearview mirror for too long or too often?' The answer: You won't know what you run into. I need to explain, my dad was not talking about having an accident. He was talking about running past opportunities that were right in front of you. Graduates, for each of your rearview mirror memories or realities, always hear you say, I am looking forward."
View Coleman-Morris' entire speech here.
Photos courtesy of:  Robert Bain / San Jose State University