By Joyce Mitchell
Governor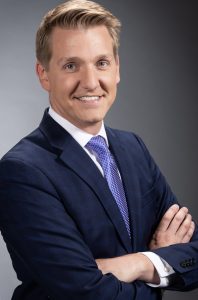 Congratulations to KTVU Fox 2 Investigative Reporter Brooks Jarosz on a couple of fronts. First, Jarosz has been honored with an Edward R. Murrow Award.  Shortly before, it was announced that he had been elected Board President of the SF/NorCal Chapter of the National Academy of Television Arts & Sciences (NATAS).
"The award was in the Hard News category for our coverage of homeless encampment fires and the ongoing issues surrounding housing and crime in Oakland and the Bay Area," said Jarosz. RTNDA has been honoring outstanding work in broadcast journalism with Murrow Awards since 1971.
"Being observant and engaged in the community is an important aspect of the reporting process," said Jarosz. "This report manifested from countless tweets, emails, videos, and conversations in Oakland about the growing number of homeless encampment fires. It got me wondering. What's going on?"
Jarosz hopes the coverage made a difference in the community. "What we uncovered was mismanagement, red tape, increasing crime, a lack of accountability and neighborhood frustration. I'd like to think we lit a fire in hopes of extinguishing what has become an increasing community problem and threat to public health and safety."
Then, to have the story receive a Murrow Award fuels Jarosz to continue seeking justice as a journalist. "Winning this award means the world to me because it recognized the community service and watchdog duties many local journalists aim to deliver every day," said Jarosz.
Inspiration comes from fellow journalists and his mentors who also tackle sometimes difficult or delicate subjects in an objective manner. "A big thanks to those who have helped me along the way, all-star photojournalist Tony Hodrick, and to KTVU Fox 2 for letting us pursue important issues," said Jarosz.

A native of Toledo, Ohio, Jarosz has had his eye on the prize for a while. And that's gathering and reporting news that serves his community. He's worked as an investigative reporter at WSYX ABC 6 / WTTE FOX 28 in Columbus, Ohio. Early on, he spent nearly four years at WSAZ NewsChannel 3 in Charleston, West Virginia as a multimedia journalist, producer, reporter and anchor.
Jarosz got his start at WOUB-TV in Athens, Ohio while getting his Bachelor's of Science in Journalism at Ohio University. While in college, He earned a prestigious paid fellowship with the Investigative Unit at ABC News in New York City, contributing to segments airing on World News Tonight, Good Morning America and Nightline.
During his time in Ohio, Jarosz served as a Regional Vice President of the Ohio Valley Chapter of NATAS. Now, he moves into the chief executive role as President of our NATAS Chapter here in Northern California.
He's been on the SF/NorCal Chapter's board for the past four years. Jarosz has further developed the Mentor Match program that connects professional members from across regions to build support and help advance careers.
An Emmy Award recipient, Jarosz uses his passion for journalism to make a difference, spark change and get people talking. Striving for excellence, as is represented by the Emmy Award, is of utmost important to Jarosz.
Now add a Murrow and a new leadership commitment guiding TV industry professionals here in Northern California, and Jarosz is using his skills to invest – in each and every one of you as he guides us all for the next two years as Chapter President.
Again, congratulations Brooks Jarosz! And thank you.
Board of Governors Bios: Brooks Jarosz