By Kevin Wing
Chapter Vice President, San Francisco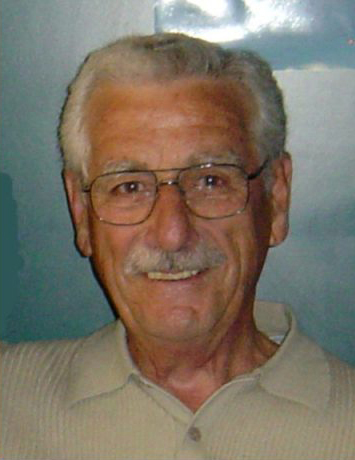 Dan Cervelli, a Bay Area and northern California television pioneer whose legendary career, of which spanned five decades from the 1950s to the '90s and included being instrumental in the inaugural launch of Oakland's KTVU in 1958, has died.
Cervelli passed away Feb. 3. He was 90. For the last two decades following his retirement, Cervelli and his wife, Shirley, had been living in the Sacramento area, first in Rocklin, then in Roseville.
He was a 1990 inductee of the Silver Circle of the San Francisco/Northern California Chapter of The National Academy of Television Arts & Sciences.
For nearly 40 years, from 1958 to 1997, Cervelli played an important role in KTVU's engineering and operations departments. One of the station's first employees, his first day was Feb. 24, 1958, two weeks before the station hit the airwaves for the first time on March 2, 1958. Cervelli was among the station's original staff to launch the station, which originally broadcasted from the Paris Theater in downtown Oakland while its new studios were being built along the city's waterfront at Jack London Square.
The Bay Area native, born in San Francisco's North Beach neighborhood in 1931, later grew up in the city's Bayview District. Cervelli graduated from St. Ignatius High School, then attended the University of San Francisco for a year before being drafted into the Signal Corps, based out of San Luis Obispo. He eventually returned to the Bay Area and decided to enter the John O'Connell Technical Institute, a school dedicated to the television industry.
During an interview with Off Camera in 2010, Cervelli credited Ken Nielsen and Ken Dragoo, two instructors, with being instrumental in his education about the broadcasting industry.
By then in his early 20s, Cervelli's experience with the school began opening doors. He began handling operations at KALW radio, which was based in the same building as the school. Also, KQED-TV began airing a live symphony hour utilizing the services of Cervelli and his fellow students.
Cervelli eventually joined KSFO radio on a part-time basis, where he went to work as an audio technician for the legendary Del Courtney from the Tonga Room at the Fairmont Hotel in San Francisco on Friday and Saturday evenings. Cervelli spun 45 RPM records on the immensely popular radio program.
Cervelli's TV career was about to begin, but not before he married Shirley in 1954. She had a fulltime job working for a doctor, and Cervelli was helping with part-time work — while he was still in school — doing anything he could to make ends meet. Soon, the young couple would start a family, eventually having three children: Gerry, Denise and Patrice.
In 1955, television came calling in the form of KNTV in San Jose. The station was preparing to sign on the air for the first time in September of that year, and Cervelli was a part of the engineering staff that flipped the switch, launching what has since been 67 years of broadcasting (and counting) for what is known today as NBC Bay Area. But, he didn't remain with the station long. Soon, KNTV's chief engineer who hired him there took a job at KCCC Channel 40, then Sacramento's ABC affiliate (in later years, KCCC would become KTXL). An engineer there quit, so Cervelli was hired to replace him.
Soon, though, Cervelli's future at KCCC would reach a fork in the road. With Sacramento's KCRA and KXTV now on the scene and affiliated with NBC and CBS, respectively, ABC decided to move its affiliation from KCCC to KOVR, a VHF station, leaving UHF-based KCCC with no network affiliation. The station would eventually shut down, but only temporarily.
In need of work, Cervelli went to work at KOVR, where he remained for a year and a half. Soon, KOVR's assistant chief engineer Jim Von Striver — who played a pivotal role in Cervelli's career and eventual return to Bay Area television – would call. Von Shriver moved to Oakland to start up KTVU. He called Cervelli to ask him to come down for an interview. Cervelli got the job, and the rest is history.
During the next four decades at KTVU, Cervelli did it all. In the 1960s, he was in charge of doing all of the station's live remotes, including Giants telecasts (which began when the team moved to San Francisco from New York, the same year KTVU went on the air), Cal and Stanford football games, roller derby, Western shows, live Friday night wrestling from the station's studio, and remotes from the Cow Palace. Through the 1970s and '80s, with technological advances, Cervelli was there for anything from the advent of live-color technology to electronic news gathering, or ENG, where the station placed repeater antennas on the Bay Area's highest mountaintops, the tallest skyscrapers and the Bay Bridge and Golden Gate Bridge in an effort to provide live coverage of a breaking news story no matter the location. Also in the 1980s, the move from one old television station facility to a new one could not have been done without Cervelli, when KTVU moved from its late 1950s era studios to a new, larger facility, still in Jack London Square, but a mile south along The Embarcadero. Cervelli, in the 2010 Off Camera interview, said it was a "huge undertaking".
In January of 1997, after nearly four decades with KTVU, Cervelli decided it was time to retire. He and his wife lived in Danville for a few more years after his retirement, then eventually left the Bay Area for the Sacramento Valley.
In addition to his wife and three children, Cervelli is also survived by grandchildren and great-grandchildren, and many of his friends from his years at KTVU.